Hyderabad: The state government on Saturday issued an official order extending Dussehra holidays for all educational institutions in Telangana. However, many teachers alleged that they were asked to report to their respective schools and colleges by October 14 despite the strict instructions by the government.
In an official Government Order (GO) signed by B Janardhan Reddy, Secretary to State Government, reads, "The government extends holidays to all government, aided, and private schools in Telangana from October 14 to October 19, 2019. The government also declared holidays for the said period to Engineering, Private, Law, MBA, MCA, Pharmacy and University colleges except for Medical colleges that have already been running to avoid inconvenience to students on account of disruption of Telangana State Road Transport Corporation (TSRTC) services. The govt direct that all educational institutions shall function on all second Saturdays until April 2020 in lieu of the holidays declared now. All the head of departments and registrars of all universities under the control of the education department shall take further necessary action accordingly in the matter."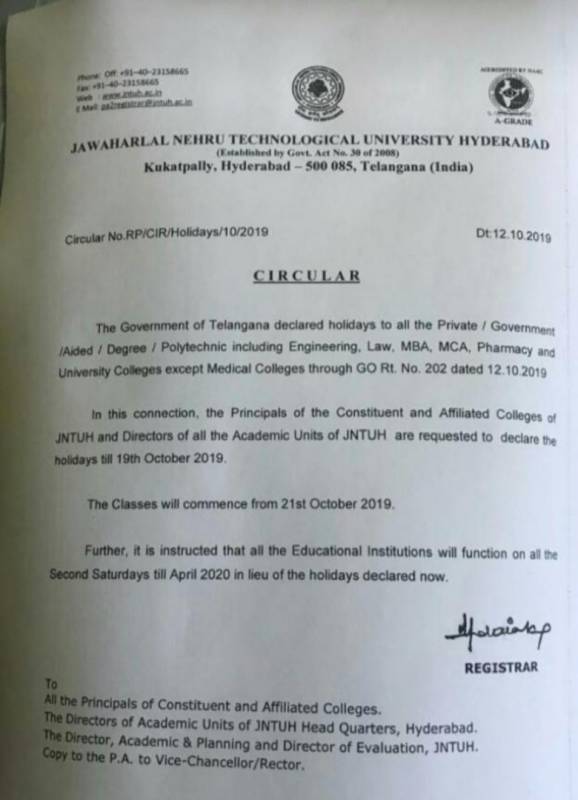 Apart from school teachers, many students from technical institutes alleged that their classes would be conducted from October 14. Allegedly, schools warned their teachers that if they are unable to report on Monday, their holidays will be considered as Loss of Pay. Reportedly, a concept school in Kukatpally is locking the school from outside and conducting classes for class X students on the fifth floor.
Ram KVS, an engineering student, alleged, "My institute is conducting classes in spite of the Government Order. They have extended the timings to break the crowd. They have insensitively not considered the issues faced by female students and long-distance students to travel at night. It takes about an hour from my college to reach Uppal. We don't know with whom we should complain."
Sai Teja, a member of Forum Against Corruption (FAC), said that they had received several complaints from teachers and students mentioning that schools and colleges are running despite the government's direction. "I appeal to the students and faculty to address their troubles to the District Education Officer (DEO) and other concerned officials. Unless and until people raise their voice, such practices will continue."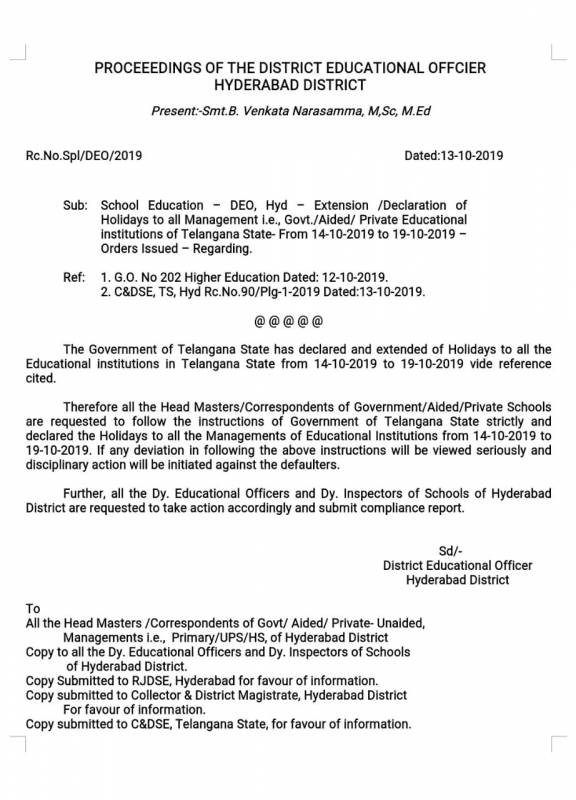 On Sunday, several schools and colleges sent circulars and texts to students and their parents regarding the holidays. They inform that regardless of the government order classes will continue. While some colleges exempt a few lower classes from their decision, some other institutes decided to conduct exams. However, at the same time, some institutions decided to follow the rules.
Mr Sheik Shabbir Ali, President of Telangana Private Teachers Forum, told NewsMeter, "Despite the government order, 70 to 80 per cent of private schools in the state are planning to run per their schedule. The concerned authorities should take strict action against such institutes. We will also complain against such schools if they run from October 14."
Senior officials from Commissioner of School Education said that they had instructed private school management to adhere to the issued schedule strictly. They asked the institutions not to conduct any classes for students during the above period. "Violation of instructions shall be viewed seriously, and action will be initiated against the erring managements," officials noted.
However, Srinivas Reddy, President of the Telangana Recognised Private School Managements Association TRSMA) told NewsMeter that they don't want to violate government rules. "However, we are concerned about the students' education. We have already lost 15 working days last time as the government completed the session by April 10 and asked us to open by June 2, 2019. Additionally, due to heatwaves and shortage of water, the vacation was extended to June 14. Meanwhile, there were strikes and this time 16-day long Dussera holidays were declared. According to the timetable, exams are scheduled from October 21 and if schools reopen on the same how will students write the examination," he said.
Srinivas added that the majority of private school students don't depend on RTC buses as they have their means of transport. "So, we have made a request to the Education Minister and concerned officials, but they denied our request and asked us to abide by the rules," he noted.