Hyderabad: It seems like a victory of sorts for the students of EFLU. The Vice-Chancellor of English and Foreign Languages University (EFLU) Hyderabad has decided to roll-back the controversial circular, against which students were protesting since January 29.
It was alleged by the students that the circular named (EFLU/RO/2020/67), which proposed six new reforms, was "anti-student" and "undemocratic". For instance, the new circular mandated that each course should not have more than 30 students enrolled, which implies either seat cuts or employing more faculty. Another reform calls for adopting a 'Bell curve' grading system where only 20 per cent of a class will be given A+ and A grade, which students believe may lead to failing of more students.
Demanding a complete roll-back of the circular, the students of EFLU had taken out a 24-hour-strike on January 30, following which a meeting was held between the student representatives and the university administration.
On January 31, the EFLU university administration ordered a complete cancellation of the circular. The order said, "The Hon'ble Vice Chancellor has given approval for the cancellation of the communication No: EFLU/RO/2020/67 posted on the University Website in 29.01.2020. Hence, the communication No: EFLU/RO/2020/67 stands cancelled."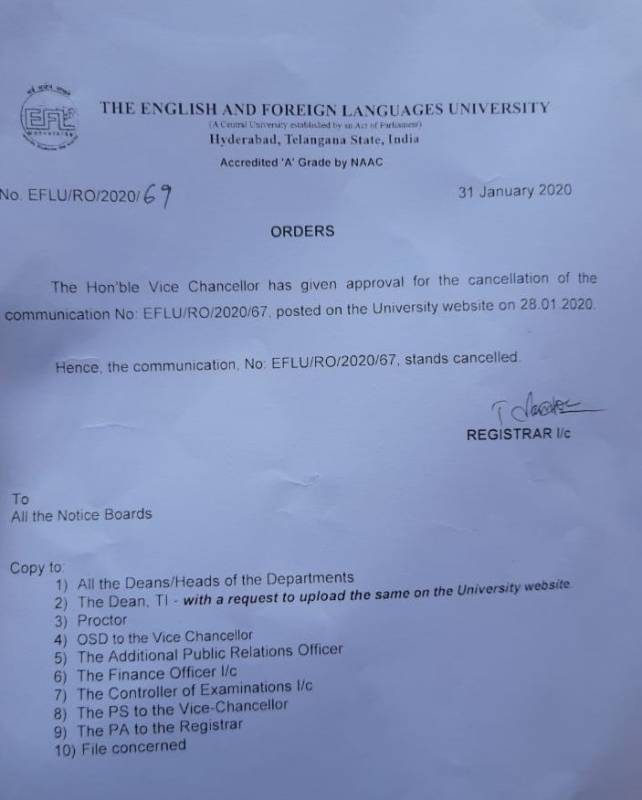 Speaking to NewsMeter, Harshal Deshpande, vice-president of EFLU Students' Union said, "The roll-back was due to the combined efforts of students and the teachers' association, who put pressure on the university administration. It was an invalid circular, if you go by the University statutes, because a standing committee cannot pass a circular, by-passing the academic council. Our demand was a complete roll-back, and the university was forced to cancel the circular now."
The question remains as to why central universities are hell-bent on releasing new circulars every day, that have the potential to change the academic nature of the university. "There is an attack on all public universities in the country, and the cancelled circular is one of its manifestations. They basically want to make education hard for people. For example, the bell-curve grading is implemented in many technical institutions like IITs. They need to understand that you can't bring such a grading system into Humanities, because it will only encourage unhealthy competition. How do you plan to give marks for creativity under this system?" asked a Ph.D student.