Hyderabad: The English and Foreign Language University, Hyderabad, will be starting online classes for students in the third and fifth semester from August 27th.
In a circular released by the varsity administration, it was disclosed that registrations will begin on August 24th, and online classes for undergraduate, postgraduate, and teacher education courses will commence from August 27th.
The circular said that owing to the loss of classes in August due to COVID-19 pandemic, the university will be holding classes 6 days a week to make up for the same.
'As per the UGC Regulations 2018, there should be a minimum of 30 weeks of actual teaching in a 6-day week or 36 weeks if the University adopts a 5 day week pattern. Due to the COVID-19 pandemic, classes could not be scheduled in the first week of August. Hence, to comply with the UGC Regulations 2018, it is proposed to adopt a 6-day week pattern instead of a 5-day week pattern,' the circular reads.
A full schedule for the two upcoming semesters of August- December and January to June was also released. Semester end examinations will be held towards the end of December, from 18th to 30th.
Winter vacations are scheduled for January 1st to 17th.
The full schedule of August-December 2020 semester is as follows: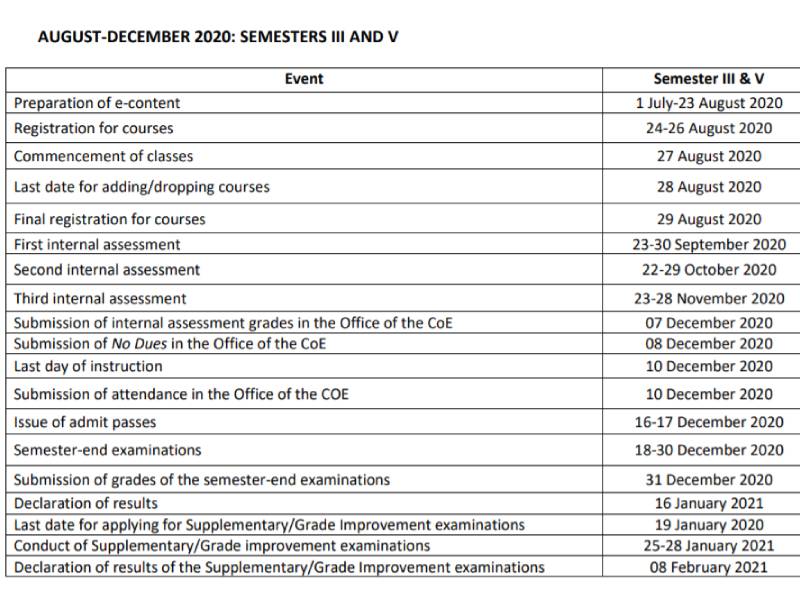 The full schedule of January to June 2021 semester is as follows: