Highlights
No quarters for students returning after winter holidays

Students Union stages protest in campus
Hyderabad: In an unexpected decision, University of English and Foreign Languages (EFLU) extended its winter holidays and called for a complete shutdown.
The notification was published on Monday night, a day before the reopening of hostels after a one-month holiday. The updates suggested that the holiday was extended up to January 20 and hostels would reopen only on January 18.
Until January 17, PhD scholars were granted personal leave and asked to vacate their quarters by Friday, which is unprecedented. The notice also mentioned that the above period will not affect their personal leave of three days allowed under the Rules of the University.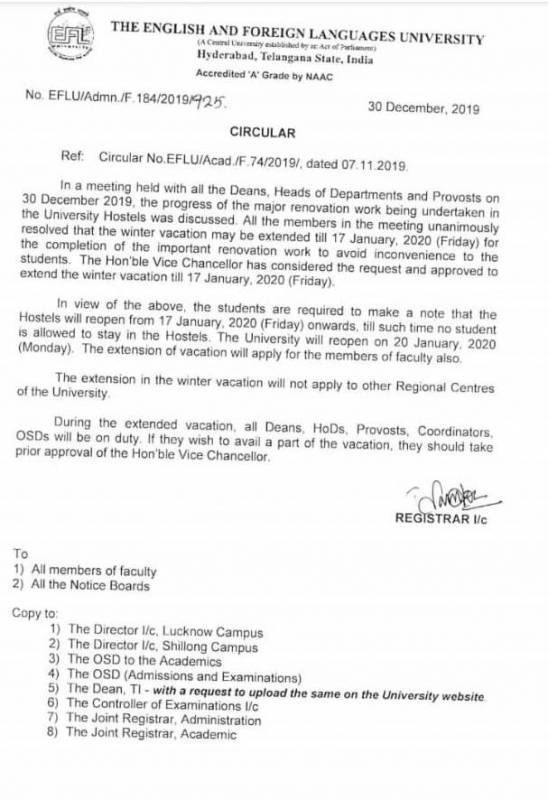 When the Students ' Union approached, the administration stated that the sudden shutdown was because of renovation works. Those immediately hit will be the hostellers who have either reached the campus or will do so by Thursday. They will be without any quarters.
The EFLU Students ' union on Tuesday called for a protest on Wednesday in front of the administrative block against the University's sudden decision to prolong the holiday.The students are demanding the management for an alternative accommodation and reconsidering the decision. The management responded by saying that they will analyze individual cases and then give permission to a few.
Speaking to Newsmeter, a PhD student said "the student community believes that the administration fears that the students may launch or join anti-CAA stir and also target the stated pro-CAA stance of the Vice-Chancellor. Many contemplate that the holidays is a way to avoid students from holding protest in the campus.