Fact Check: Ex-PM Lal Bahadur Shastri's wife repaid Rs 5K loan taken from PNB after his death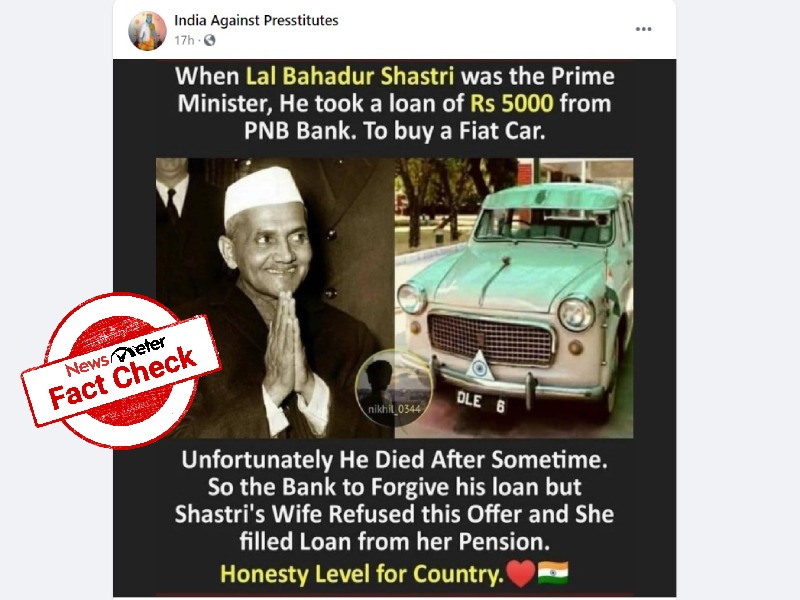 Hyderabad: On October 2, we celebrated the birth anniversary of India's ex-Prime Minister Lal Bahadur Sastri along with that of Mahatma Gandhi.
On this occasion, a message is going viral on social media claiming that 'when Lal Bahadur Shastri was Prime Minister of India, he took a loan of Rs 5,000 from PNB bank to buy a Fiat car. But unfortunately, he died after some time. So the bank officials wanted to waive the loan but Shastri's wife refused this offer and she repaid the loan from her pension. Honesty Level for Country'
This message is being shared on Facebook and also Twitter profusely.
Archive links of the claims are here and here.
Fact check:
The claim that ex-Prime Minister Lal Bahadur Shastri took a loan to buy a car and it was repaid even after his death is TRUE.
According to reports, in 1964, he wanted to buy the new Fiat car which costs around Rs 12,000. The family had only Rs 7,000. Being the PM, Shastriji applied for a loan of Rs 5,000, which was sanctioned the same day. But very soon the tragedy of his demise struck the family and the nation. The loan remained unpaid. However, it was repaid by Shastri's widow from the pension she received after his demise.
This incident came to light in 2018, when Nirav Modi ran away with crores of loan taken from the Punjab National Bank and was widely published by the media then as Lal Bahadur Shastri also took loan from the same bank.
"We went to St Columbia's School on a tonga. Once in a while, we used the office car but my father did not allow us to use it regularly for any kind of private work. There was a demand at home that we should buy a car," Anil Shastri, a senior Congress politician and son of the former PM told the press in an interview in 2018.
The car in question, a cream-coloured 1964 model Fiat with the impressive number, DLE 6, is now an essential part of the Lal Bahadur Shastri Memorial at 1, Motilal Nehru Marg, in Delhi.
Therefore, the claim is TRUE. Even after becoming the Prime Minister, Lal Bahadur Shastri took a loan of Rs 5,000 from Punjab National Bank which was paid after his death by his widow from the pension she received.
Claim Review :
Ex-PM Lal Bahadur Shastri's wife repaid Rs 5K loan taken from PNB after his death
Claimed By :
Social Media Users