Lost to COVID, the unclaimed body of Mr. Simhachalam, saw its last rites after 13 desolate days of death
Hyderabad: The rhythm of death, the chavu dappu, was not heard anywhere when Mr. Simhachalam was being taken to his funeral pyre at the Puranapul Shamshan Ghat (Puranapul Crematorium). All that surrounded him was the monotonous sound of an ambulance siren, the one he was carried in. The only rhythm in that, was of loneliness.
Mr. Simhachalam was tested positive for Coronavirus when he was admitted at the Government General & Chest Hospital, Erragadda on 25th June. He succumbed to the virus the very next day, with only a nurse by his side. The misfortune that Mr. Simhachalam brought along with him into the hospital, was the only thing that didn't leave his side until he turned to ash.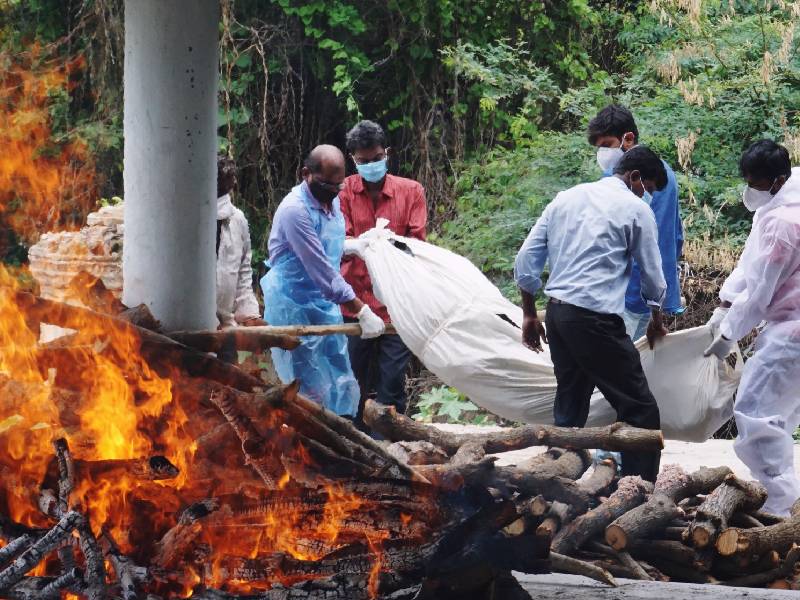 Members of Satya Harishchandra Foundation cremating the body
NewsMeter has been told that when Mr. Simhachalam (54) came into the hospital on 25th, all he had along with him was his Aadhar Card. His face on July 9th, after 13 days of the death, however, looked nothing like the picture on the card.
"We put his body in our mortuary soon after he was declared deceased," says Mahboob Khan, Superintendent at the hospital, adding that their mortuary "unfortunately" has no freezing boxes. Mr. Sinhachalam's body was shifted to its new home on the evening of 26th June, where he lay with no iceboxes, no fans, and dysfunctional lights. He was wrapped in a bedsheet which soon tore apart because of the liquids his decomposing body released. He lay there and shared his desolation with three other bodies, all waiting to be perished.
While Mr. Simhachalam waited, the hospital handed over his details to the SR Nagar Police station, where the task to find a claimant was kicked off. "We were informed by local police officers after an investigation that the address mentioned on Mr. Simhachalam's Aadhar Card did not exist," says Inspector Murali Krishna, SHO at SR Nagar Police Station. "Families often end up abandoning patients with such a critical condition," he adds. The misfortune for Patient Number 1021, hence, piled on.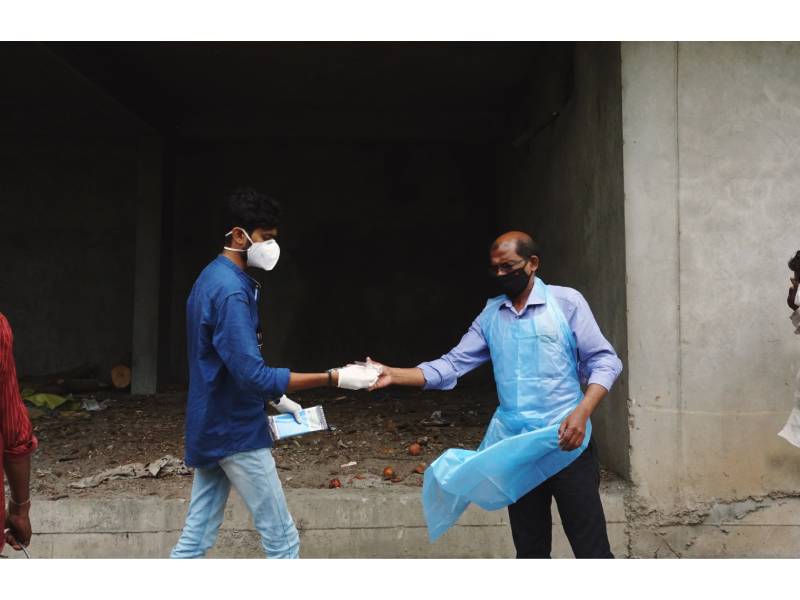 Mr. Rao taking protective equipment for the cremation
Mr. Rao and his team made their first visit to the mortuary on 8th July, without expecting that there would be a second one. They hired a private ambulance to take Mr. Simhachalam's body to the cremation grounds, who's driver allegedly ran away upon seeing the destitution which had taken a physical form in the body's upper half. "In the absence of proper storage mechanisms, Simha's face was bitten by rats and his body fluids had burst out of his skin," Dr. Rao says. In the pictures provided by the organization, we were able to see that Mr. Simhachalam's right cheek was bitten by rats, his face had grown brutally yellow scars, and his entire body had turned into the color of misery.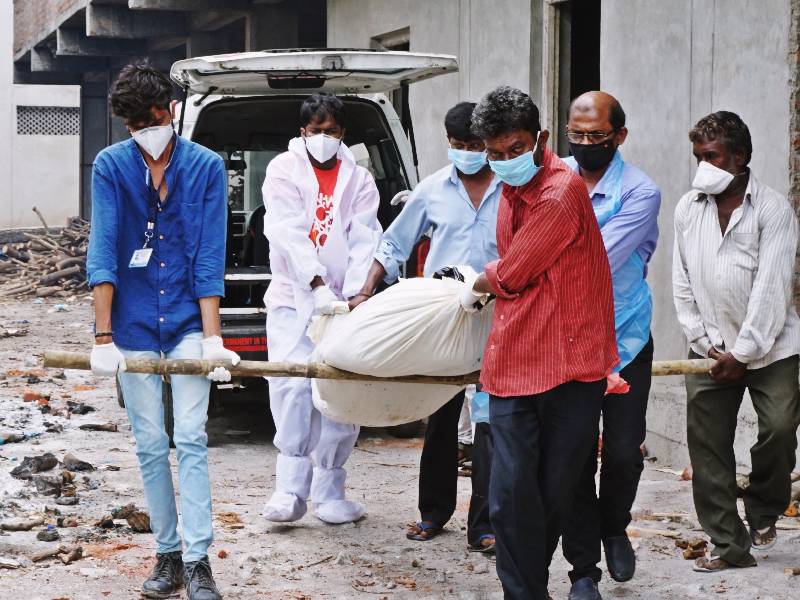 Mr. Simhachalam, being carried away for cremation
After trying to book another ambulance for hours on July 8th, the team decided to go back the next day. Mr. Simhachalam's body was finally brought to the Puranapul crematorium, packed in layers of plastic, at 11 am on 9th July, where it rested for a while before complete demolition. It lay there in silence, while sounds of chavu dappu and cries of love were heard for other bodies.
The men, some wearing complete protective equipment, while some merely a plastic apron, carried him to his deathbed. Logs were piled on, kerosene was layered, and a sense of relief gradually started entering the environment. The men in PPE kit who had carried Mr. Simhachalam removed their armor and threw it into the pyre. Mr. Simhachalam was ready to go.
Mr. Rao lit a matchstick and threw it into the pyre. Misfortune still loomed around. Whatever flame had risen, vanished within seconds. It took the team another 20 minutes to finally let Mr. Simhachalam rest. The pyre gradually grew bigger, sending ashes to our faces and letting us know that Mr. Simhachalam was finally at rest.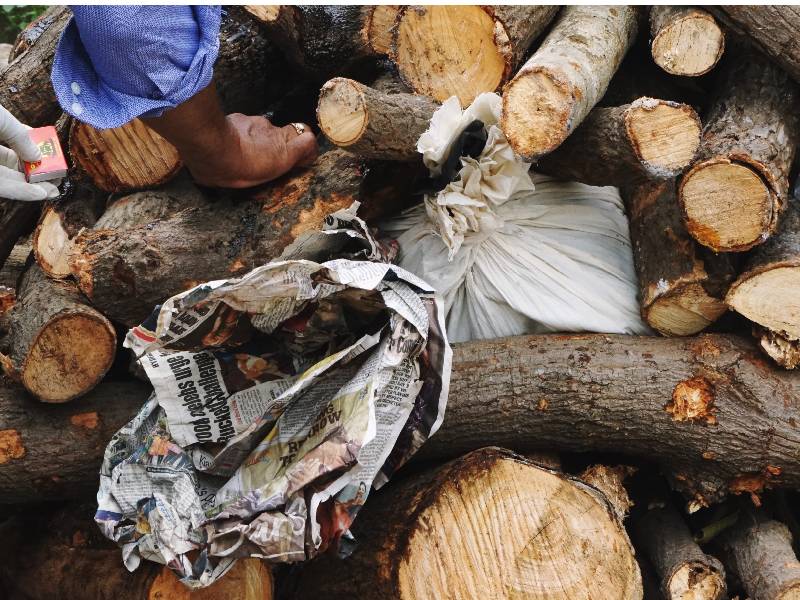 Mr. Simhachalam, at rest


(Pictures by Priyali Dhingra)