Hyderabad: A Twitter interaction of actress Meera Chopra with her fans went horribly wrong when supporters of Jr. NTR issued rape threats prompting her to request police to take action against the rowdy elements.
Meera, who rose to fame with Pawan Kalyan-starrer Bangaram, had invited her fans to ask questions on Twitter. One of the fans asked who her favorite Telugu actor was. Meera replied Mahesh Babu. This answer pricked the NTR fans. They started tweeting about gang-raping and killing her. They went to the extent to curse that her parents should die of COVID.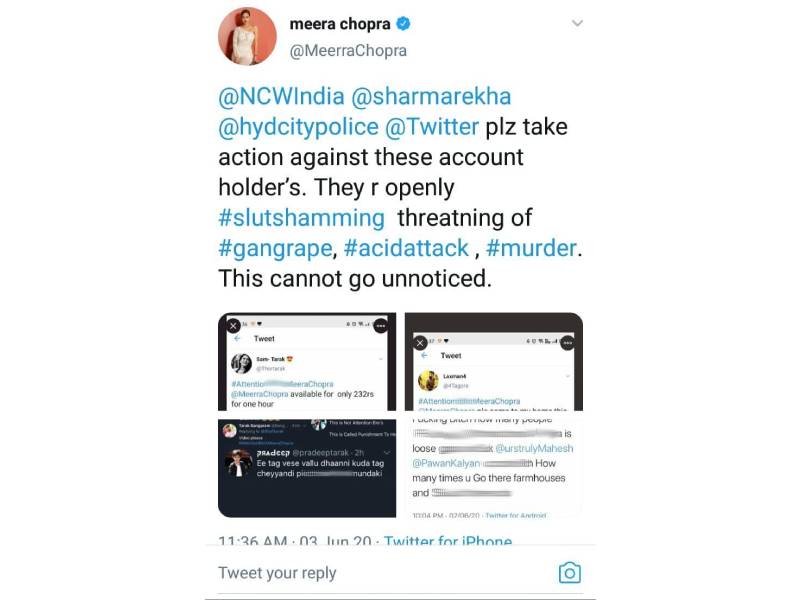 Meera was shocked by the sudden attack from Jr. NTR fans. In one of her tweets, she tagged Jr NTR and Mahesh Babu saying she didn't know it was a crime to be a fan of Mahesh Babu.She asked NTR if he feels successful having such an abusive fan base. She requested him not to ignore the tweet.
Chinmayi Sripaada, who has been fighting against sexual harassment and patriarchy, stepped-in to support Meera. Chinmayi tweeted to one of her followers saying: "I hope she files a case".
Meera retweeted saying against whom she will file a case when there are thousands of people abusing her.
She finally tagged the Hyderabad Police and cybercrime team and reported all the accounts that have been threatening to rape her. She requested Twitter to suspend all those accounts. She tagged Hyderabad Police with all the screenshots.
Fan war has always been ugly in Tollywood. Meera has fallen prey to such abusive fan clubs with her harmless tweet
@tarak9999 i didnt kno that ill be called a bitch, whore and a pornstar, just bcoz i like @urstrulyMahesh more then you. And your fans will send my parents such wishes. Do u feel successful with such a fan following? And i hope u dont ignore my tweet!! https://t.co/dsoRg0awQl

— meera chopra (@MeerraChopra) June 2, 2020