Hyderabad: Amid the COVID-19 lockdown, the exodus of migrant labourers from the cities to their hometowns has caused concern for the state governments. In order to tackle the situation, states like Uttar Pradesh had resorted to easy ways to 'disinfect' these migrant workers, who had travelled from far-off cities, by walking.
In a video that went viral on social media, migrant workers were seen being sprayed with a chemical solution said to be sodium hypochlorite by Bareilly district officials, in Uttar Pradesh. The officials claimed that this is done to 'disinfect' the people. However, is this method effective in eradicating the presence of the novel coronavirus?
Fact Check:
The video, which was uploaded on Twitter by journalist Kanwardeep Singh, on March 30, had sparked controversy in social media. Several people questioned the U.P government as to whether this was a scientific way of conducting mass disinfectation.
Meanwhile the District Magistrate of Bareilly had said that this measure was taken up due to "hyperactivity" and concern regarding increasing number of COVID-19 cases. He tweeted, "This video has been investigated, the affected people are being treated under the direction of the CMO. The team of Bareilly Municipal Corporation and Fire Brigade were instructed to sanitize the buses, but they did so due to hyperactivity. Instructions have been given to take action against the concerned."
However, the claim that spraying chemical solution on people will disinfect them of COVID-19 is FALSE. In fact, the Ministry of Health and Family Welfare (MoHFW) had released a fresh advisory against spraying of disinfectant on people for COVIFD019 management. In the advisory dated April 18, the health ministry said that "Spraying of individuals or groups is NOT recommended under any circumstances. Spraying an individual or group with chemical disinfectants is physically and psychologically harmful."
The health ministry further stated that spraying the external part of the body does not kill the virus that has entered the body. "There is no scientific evidence to suggest that they are effective even in disinfecting the outer clothing in an effective manner," the advisory said.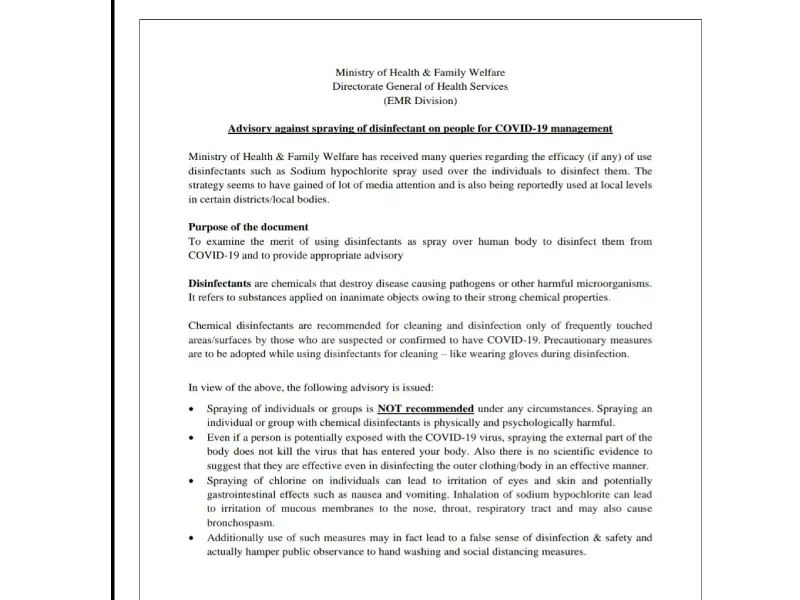 In addition to this, the MoHFW also listed out the harmful effects caused due to sparying of Sodium Hypochlorite on people. According to officials, spraying of chlorine on people can lead to irritation of eyes and skin and potentially gastrointestinal effects such as nausea and vomiting. "Inhalation of sodium hypochlorite can lead to irritation of mucous membranes to the nose, throat, respiratory tract and may also cause bronchospasm," the advisory said.
Thus, the claim that mass disinfectation on people using chemical solution will eradicate COVID-19 is FALSE.
Claim Review :
Spraying sodium hypochlorite on people kill COVID-19
Claimed By :
Social Media Users