Fact check: Claim that Govt is providing money to bereaved families of COVID-19 victims is false.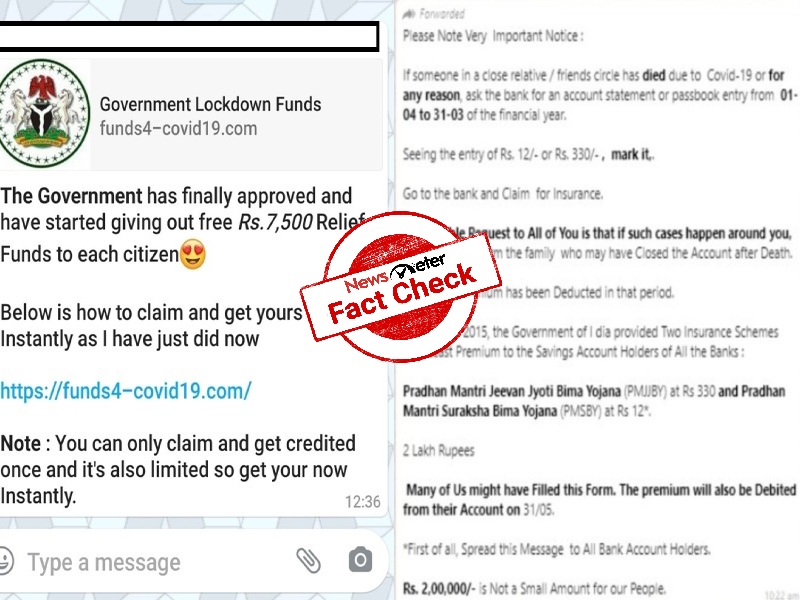 Hyderabad: Several posts are viral on social media with claims that the Government of India is providing money for the victims of Covid-19 and their families.
One such claim states that insurance benefits for Covid-19 deaths can be claimed under two of the PM's Suraksha Yojana Schemes-Pradhan Mantri Jeevan Jyoti Bima Yojana (PMJJBY) and Pradhan Mantri Suraksha Bima Yojana (PMSBY).
Below is the screenshot of the claim: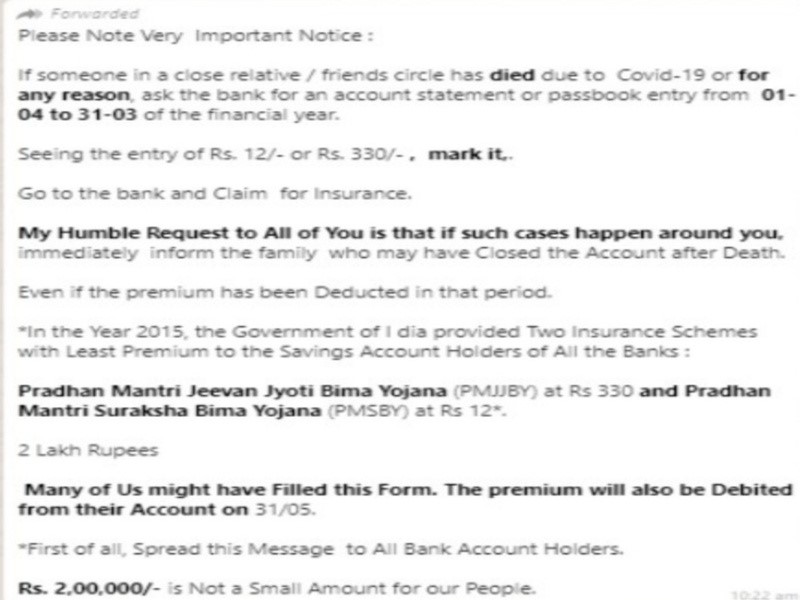 Another claim reads, "The Government* has finally approved and have started giving out free _Rs.7,500_ Relief Funds to each citizen😍 Below is how to claim and get yours credit Instantly as I have just did now. https://funds4-covid19.com/ *Note* : You can only claim and get credited once and it's also limited so get your now Instantly".
Below is a screenshot of the claim: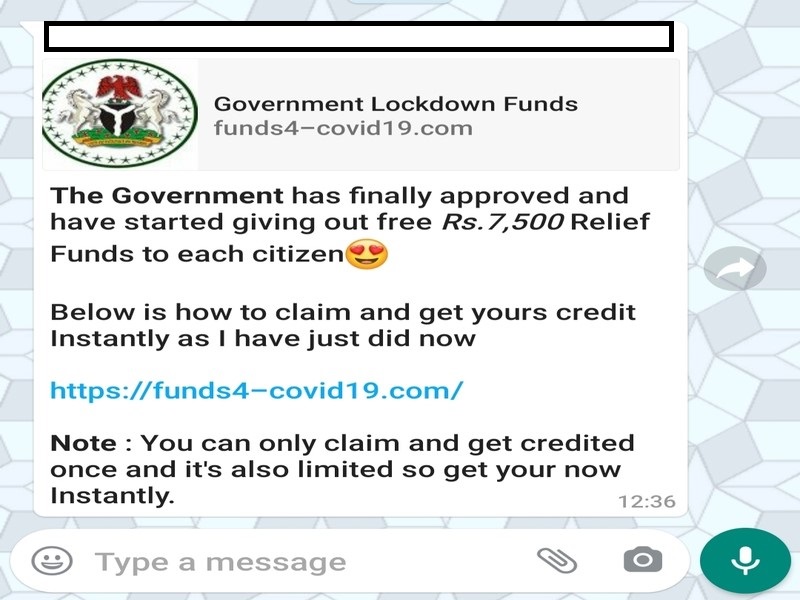 FACT CHECK:
Claim 1: Insurance benefits for Covid-19 deaths can be claimed under the schemes of PMJJBY and PMSBY.
The PMJJBY is for people in the age group of 18-55 years who have a bank account. The life cover is of Rs. 2 lakh and will be for one year period. Risk coverage under this scheme is for Rs. 2 lakh in case of death of the insured, due to any reason.
The assurance on the life of the member shall terminate on any of the following events and no benefit will be payable :
1) On attaining age 55 years
2) Closure of account with the bank or insufficiency of balance
3) Joining of PMJJBY with one insurance company with one bank account only.
Therefore, this scheme will not be applicable if the claimant does not have a bank account or does not belong to the 18-55 years age group.
Secondly, PMSBY covers only Rs 2 lakh for accidental death and full disability and Rs. 1 lakh for partial disability. (Accidental deaths are sudden, unintended, and fortuitous external and visible events). Covid-19 deaths are not considered as accidental deaths and therefore this scheme is not applicable.
Therefore, this claim is false.
Claim 2: Government approved and has started giving out Rs.7,500 as relief fund to each citizen.
Upon clicking the link on the viral message, we were directed to a page that asked questions of 'bonafide citizens', amount required and its use. Upon answering them, a notice reads that we are eligible for the s 7,500 amount and it will be transferred only if we share this to Groups on WhatsApp.
We shared this message in 7 WhatsApp groups as directed and found a new dialogue box with web link information iqbroker. This website was searched on who.is domain to identify the authenticity of the link in claim and found that this webpage has been registered only on August 13, 2020.
Apart from this, Newsmeter also checked the official site of the government of India and found there was no such statement. It should be noted that such official news will be linked to the official site.
Moreover, the message also consists of grammatical errors and has a time limit, which is not how official government site functions.
Therefore, this claim is false.
Claim Review :
Govt is providing money to bereaved families of COVID-19 victims
Claimed By :
Social Media Users