Hyderabad: A video is circulating on Twitter claiming that Muslims stopped Hindus from installing a Ganesh idol and vandalised it.
The video posted by user, with the name Uttam Chaurasiya, was viewed by 89,500 viewers. A Hindi caption with the clip translates to "It was some local goons in Hyderabad who were opposing the installation of the Ganesha idol and damaged it, so some brothers had to beat them. KCR feels that he is working closely with the next Nizam Razakars"
#AntiHinduKCR"
Many such videos and posts are circulating on Twitter and other social media platforms. Another video got 3,6000 views, was retweeted 3,200 times and liked 3,700 times.
Archived claims can be found here and here.
Fact check
The fight was amongst the relatives of the same family. The claim is FALSE.
As per The News Minute, the incident took place at Lal Darwaja locality under the Moghalpura police station limits. All those in the fight involved were Hindus, who were distant relatives. No Muslims were involved. The quarrel took place over where to install the idol. One side of the family opposed installation in front of the house, and the latter argued to install it at the same place as they have been doing it for the past few years. The fight began after the hand of the idol broke.
On Tuesday @CPHydCity tweeted "Warning. A small quarrel which took place within the same community in Moghalpura was settled by police and community elders. Some mischief makers have uploaded a video and projected it as an intercommunity issue. Such trouble makers are warned not to indulge in these mischievous deeds."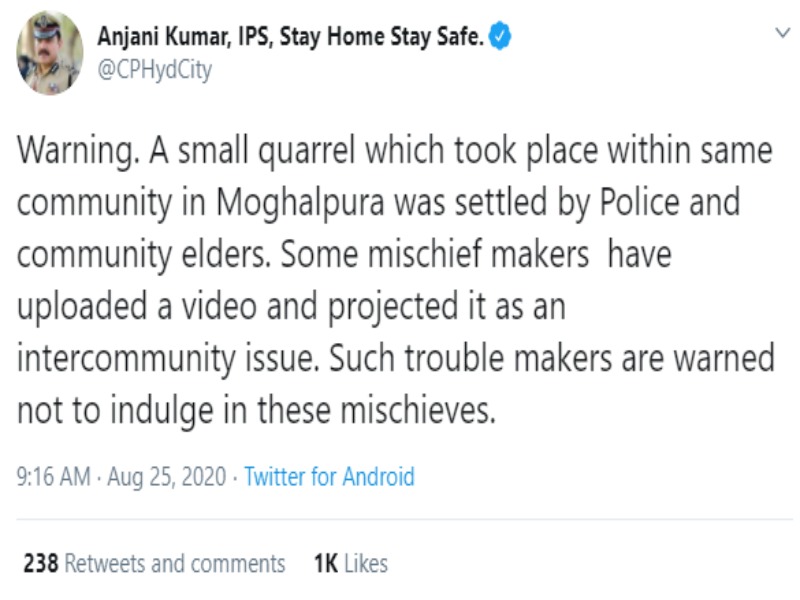 Hence, the claim is FALSE.
Claim Review :
Installation of Ganesh idol led to Hindu-Muslim fight
Claimed By :
social media users