Fact Check: Claim that TS govt included a chapter about NTR in 10th class textbooks recently is FALSE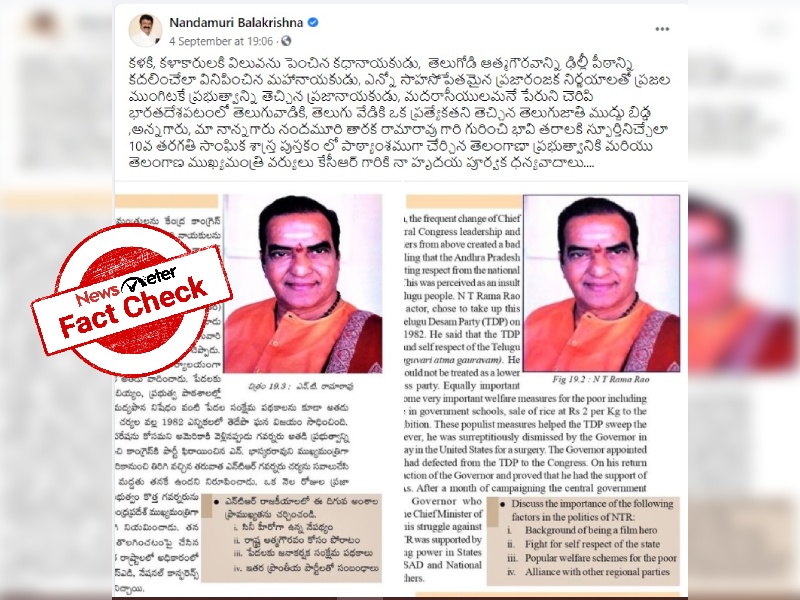 Hyderabad: Recently, Tollywood actor and son of ex-Chief Minister of AP N.T. Rama Rao, Nandamuri Balakrishna, shared a post on Facebook thanking the Telangana government for publishing a lesson about his father in 10th class social textbook of that state.
The news was also published on news websites like 123telugu.com, stating that "A few days ago, the KCR-led Telangana government included legendary thespian and former Chief Minister of erstwhile Andhra Pradesh N.T. Ramarao's inspiring life in the textbooks of the state's 10th class students. KCR's gesture of honoring the stalwart actor-politician has won every NTR fan's heart.
Today, NTR's son and film star Nandamuri Balakrishna thanked the Telangana CM for including his father's life as a chapter in the state's school book. Balayya said that NTR fought against the then central government's prejudice against Telugus and uplifted Telugu pride. Balayya also said that NTR implemented various developmental schemes for the welfare of the downtrodden people."
The same message was shared by several others.
Few users shared the image from the textbook with the claim "Thanks to Telangana government For texting about NT. RAMA RAO Garu in 10th Class textbook Special thanks to KCR Garu and Kadiyam Sri Hari Garu Johar NTR."
Archived links can be found here, here and here.
Fact Check
The claim that the Telangana Government has added a lesson about the life of N.T. Rama Rao recently is FALSE.
Though it is true that a section of a chapter has been devoted to N.T. Rama Rao in the social studies textbook of Telangana 10th class, this was added in the academic year 2014 -2015. This section was added in the SCERT textbook published in 2014 and is NOT the recent decision of the Telangana government.
In a chapter named Emerging political trends -1977 to 2000, which is a close-up study of all important political events that took place between 1977 and 2000, the political entry of N.T. Rama Rao was discussed.
Under section Andhra Pradesh, an explanation about how NTR has revolutionized politics in Andhra Pradesh with the formation of Telugu Desam Party and how he stood for the honour of Telugu speaking people is explained.
Some of the schemes introduced by his government like mid-day meals in the government schools, sale of Rs 2 per kg rice to the poor, liquor prohibition were also explained in this section. The ups and downs of his political career were also briefly explained.
Except for this, there are no other details about his life.
Here is the pdf of the Telangana SCERT 10th class social studies textbook that features the content about N.T. Rama Rao
The news that the SSC social science textbooks have content about NTR was carried by Times of India in July 2014.
Even Sakshi Education published key points of the chapter in December 2014, where points about NTR were also explained.
Newsmeter also found a few YouTube videos of teachers explaining the same chapter.
The content about N.T. Rama Rao in the 10th class Telangana social textbook was introduced in the academic year 2014-15 and is NOT recent.
Therefore, the claim that the Telangana government has added a lesson about the life of N.T. Rama Rao recently is FALSE.
Claim Review :
TS govt included a chapter about NTR in 10th class textbooks recently
Claimed By :
social media users