Fact check: Defence minister Rajnath Singh didn't tie 'Nimbu-Mirchi' to the fence at border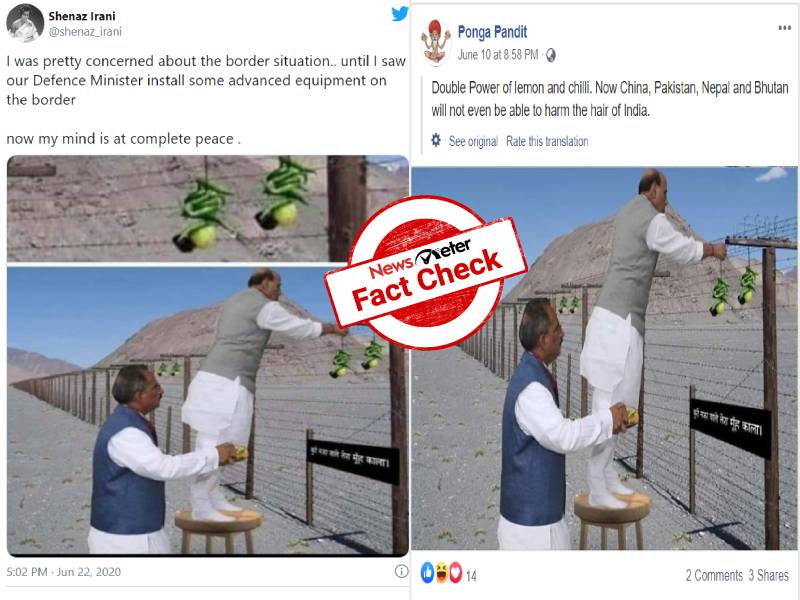 By NN Dharmasena
Hyderabad: After the recent face-off between India and China, many social media users shared a picture of the defence minister Rajnath Singh tying lemon and chillies ('Nimbu-Mirchi') to the fence at an undisclosed place on the border. There is also a blackboard fixed to the fence with a quote 'Bura nazar vala tera muh kaalaa', that we see mostly on transport vehicles.
'The users shared the pic with comments like 'I was pretty concerned about the border situation.. until I saw our Defence Minister install some advanced equipment on the border
now my mind is at complete peace.'
and
'Double power of lemon and chilli. Now China, Pakistan, Nepal and Bhutan will not even be able to harm the hair of India.' (Translated version).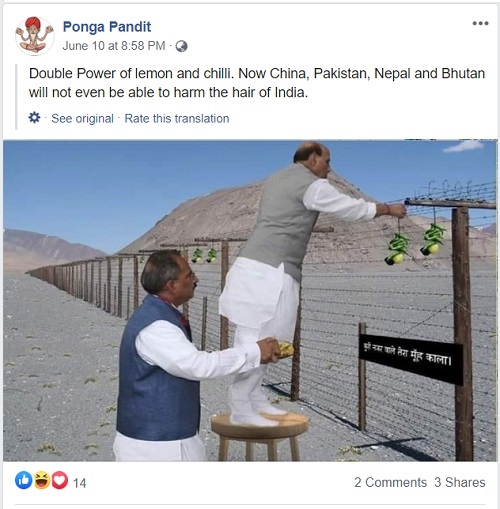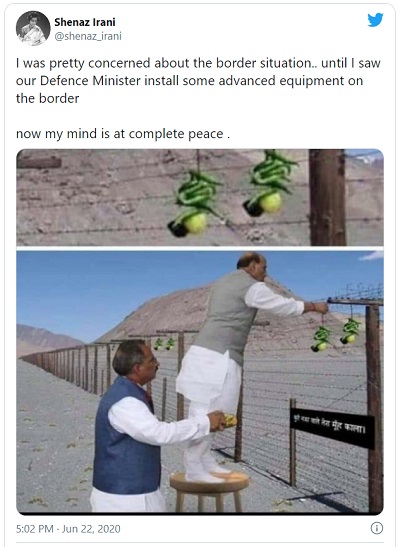 Many other users shared and laughed at the picture again, even though most of them know that it is not an original pic. So, what is the truth?
FACT CHECK:
The above claim is FALSE.
We started with the reverse image search of the photo on Google and found a few other posts with the same photo. So, we conducted the regular Google search with the keywords, Rajnath Singh Nimbu Mirchi and found news reports and satiric posts of the event on October 8, 2019, when the defence minister took the delivery of Rafale fighter jet in France and conducted a Shastra Puja there itself.
After Rajnath Singh received the fighter jet, he wrote Aum symbol on it as a ritual gesture and put lemons under the tyres of the aircraft.
The Associated Press (AP) Agency shared the news and photos of the incident.
It shared the following original picture of Rajnath Singh writing on Rafale fighter jet. Some creative soul utilised his/her talent using the photo editing software and put the social media on fire.
[caption id="attachment_50673" align="aligncenter" width="800"]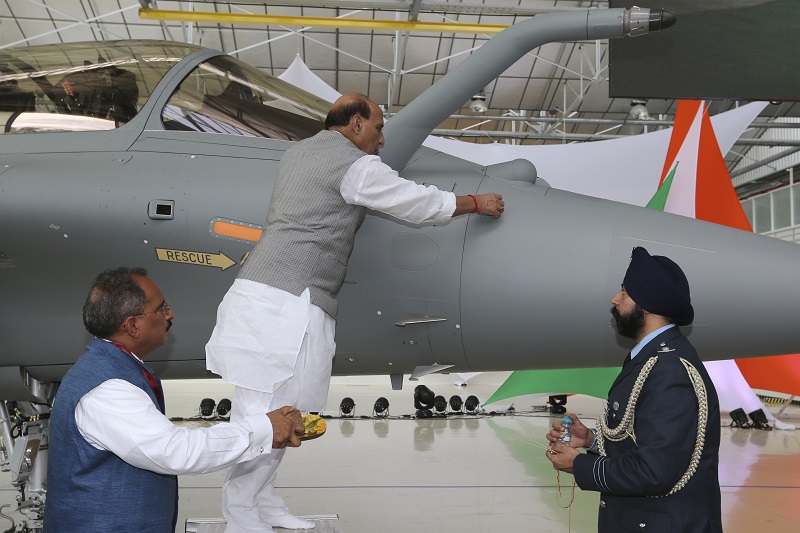 Indian Defence Minister Rajnath Singh writes onto a Rafale jet fighter as a ritual gesture during a handover ceremony at the Dassault Aviation plant in Merignac, near Bordeaux, southwestern France, Tuesday, Oct. 8, 2019. France delivered to India its first Rafale fighter jet from a series of 36 aircraft purchased in a multi-billion dollar deal in 2016. (AP Photo/Bob Edme)
Hence, the claim that Indian Defence Minister Rajnath Singh tying 'Nimbu-Mirchi' to the border fence is FALSE.
Claim Review :
Defence minister Rajnath Singh tie a Nimbu-Mirchi to the fence at border
Claimed By :
Social Media Users