Fact Check: Delhi Youth Congress falsely passes off photo of Janata curfew as students protest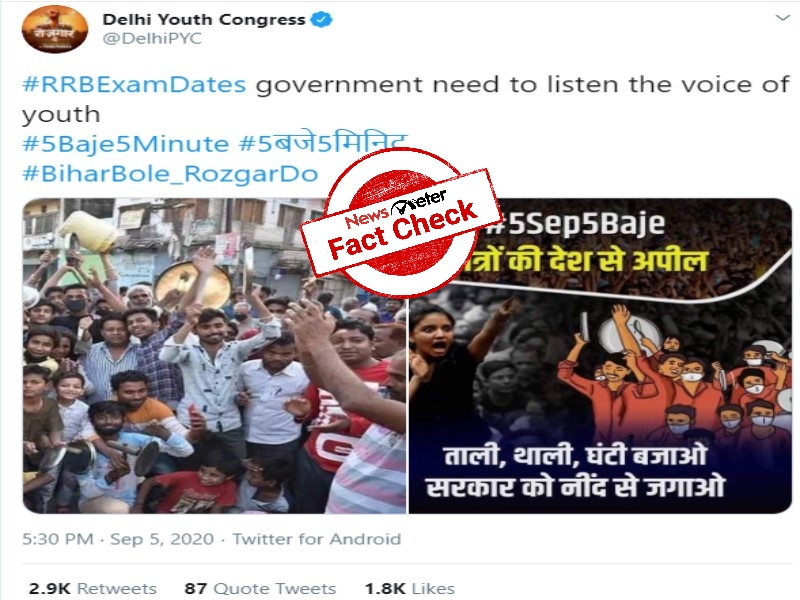 Hyderabad: Hashtag #5Baje5Minute and #5बजे5मिनिट is trending on Twitter from Saturday. By banging a plate for five minutes at 5 pm on September 5, the students are demanding that the government must issue the job notification on time and the results should not be delayed.
Delhi youth congress has tweeted two images: https://twitter.com/DelhiPYC/status/1302214899725078528
In the first picture: A group of youths on the road playing plates with sticks and;
The second picture contains a slogan in Hindi, which translates as "Appeal to all the students of this country, bang the plates and wake up the sleeping government".
Since then many people have shared the image by linking this to the student's movement. And this protest is about the sluggishness in the recruitment of government jobs.
"Our Demand, Timely examination, Timely results, Timely postings, Include waiting list in SSC, conduct RRB/NTPC, Reforms in the recruitment process, Stop Privatisation of PSU, Stop VRS of PSU Employee, Increase Vacancy in IBPS #5Baje5Minute #5बजे5मिनिट #RRBExamDates," a netizen tweeted
Fact check:
This picture has been available on the internet since March. The claim is FALSE.
By using a Google reverse image search, we found that the image is from The Times of India. According to the news, this picture surfaced on social media during a one-day public curfew in March. At that time, Prime Minister Modi had appealed to the public to express their gratitude to the Corona Warriors and clap for five minutes at 5 pm on March 22.
Amid this ongoing demonstration of students on Saturday, Piyush Goyal tweeted that from December 15, the examination of various posts in the railway wills start. This announcement of the government perceived to be the effect of the students' movement.
Therefore, it proves that the students are angry at the government. However, in reality, is there are no such reports about the incident and the viral picture has nothing to do with it. The image has been on the internet since March.
Hence, the claim is FALSE.
Claim Review :
Delhi Youth Congress passes photo of students protest
Claimed By :
social media users