Highlights
Banned Y S Vijayamma Charitable trust has no links with YS Family

The trust is located in Tanuku- West Godavari district
Amaravati: Following the Ministry of Home Affairs' Foreign Contribution Regulation Act ( FCRA) banning 168 NGOs in Andhra Pradesh and 90 in Telangana, including YS Vijayamma Charitable Trust, several news websites reported linking the trust to Andhra Pradesh Chief Minister Y S Jagan Mohan's family.
Few reports even mentioned indicating illegal fund transfer due to which FCRA has cancelled the license of YS Vijayamma Charitable trust.
However, NewsMeter has cross verified the facts with FCRA notices and found the license of Vijayamma Charitable Trust has been cancelled for violation of non - filing of annual returns from the corresponding year 2011- 2012 to 2016 financial years.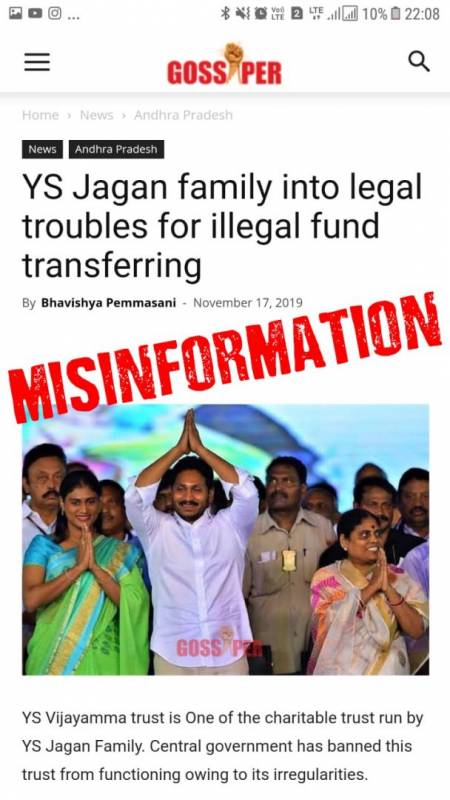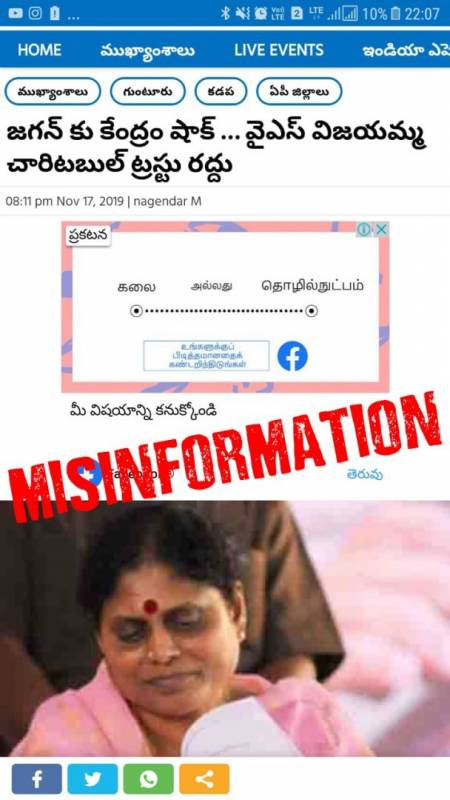 According to the norm, the NGOs are supposed to mandatory file their contribution report every year. However, it was found that these 168 websites in AP and 90 In Telangana have not filed their contribution reports resulting in the FCRA cancelling their registration.
NewsMeter's independent investigation found that the trust is not linked to AP Chief Minister Y S Jagan Mohan Reddy's family.
Search found that the headquarters of the trust is located in NGOs colony in Tanuku town of West Godavari district and has no links with the Y S Family.
When this correspondent contacted officials of Andhra Pradesh government, they clarified that the Trust is not run or linked to Chief Minister's family.
There are a number of churches and educational charitable trusts whose registration under Foreign Contribution (Regulation) Act, 2010, have been cancelled. Some of the banned ones are located in Hyderabad and Secunderabad. Seva Bharati, Hyderabad Archdiocese Educational Society and Satya Harishchandra Foundation (SHF) are among the violators' list besides Y S Vijayamma Trust.
Info: Center has banned Y S Vijayamma Charitable Trust for allegedly flouting foreign funds law norm violation. The government has cancelled the registration of the trust.#Factcheck: The trust is not run by YS family.

— bhushan kakollu (@kakollu_bhushan) November 18, 2019
The claim is FALSE.
Claim Review :
Centre ban Y S Vijayamma Charitable Trust
Claimed By :
Social Media Users