Fact Check: Did Hyderabad society members applaud a Gandhi Hospital doctor for her Covid-19 duty?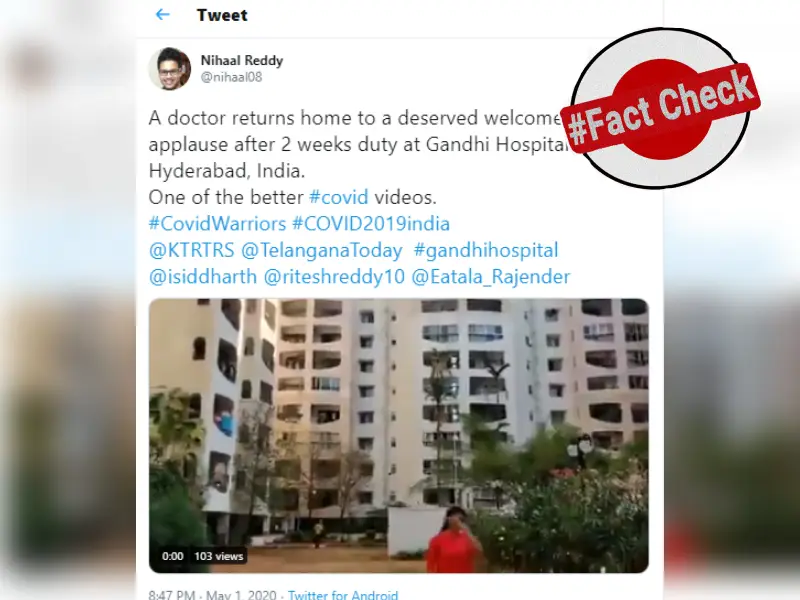 Hyderabad: Prime Minister Narendra Modi shared a video of a Pune lady doctor being applauded by her neighbours after she came home completing 20 days of continuous service to Covid-19 patients.
Once the video went viral many have started recognizing the hard work of doctors during the pandemic. One other such video, claiming to be from Hyderabad, is going viral on the social media. In the video, it is seen that a group of people is clapping hands for a doctor who has returned to her home after completing the Covid-19 duty.
The video is being shared with a caption that, "A doctor returns home to a deserved welcome and applause after 2 weeks duty at Gandhi Hospital - Hyderabad, India."
A local news channel, Life Andhra TV, also shared the video on YouTube with a headline "Grand welcome to Gandhi Hospital Dr Vijaya Sree from her neighbours."
The video has got more than 50,000 views. But is it really from Hyderabad?
Fact Check:
By doing a reverse image search, we found that the video was posted on a Facebook page 'Ranka Heights'. It was posted on April 30.
According to the details on the Facebook page, the building is located in Domlur layout, Bengaluru and the page is created to update the residents with the activities going on in the society. The Society's Resident Welfare Association also has a web portal.
The video was posted with caption, "Dr. Vijayshree (our little Viji) was given a standing ovation for her role in the pandemic....she was a junior doctor who worked with the Covid patients and post her quarantine, just has come back home. A small gesture from her fellow residents.Well done Viji. Ranka Heights is proud of you. (sic)."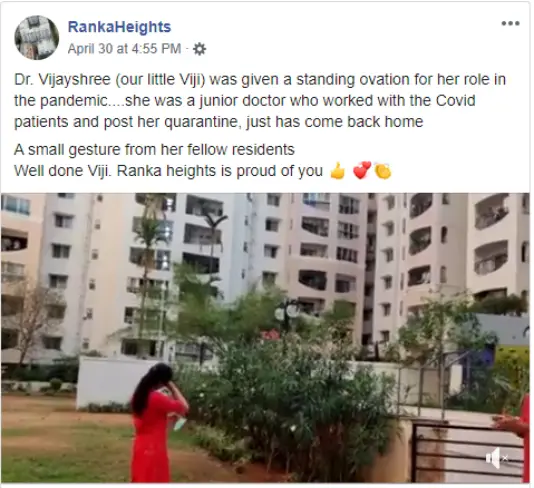 The page also shared the video of Dr. Vijayshree thanking the residents for the warm gesture. In the video she says, "It is not just me many other junior doctors are working at Indira Gandhi Institute for 8 to 12 hrs everyday. I am really proud to be a doctor today, I hope my family is also very happy. It was really a warm gesture and I am overwhelmed by it."
Newsmeter also reached out to the society members through facebook and they confirmed its from Domlur layout, Bangalore. They replied, "We are in Domlur layout. Bangalore. It was shot in our apartment. She is daughter of one of our residents. She came from her covid wards duty to meet her family for 4 days and now she is back to the hospital."
The video was also shared by NTV Telugu on April 30 stating: "Doctor sheds tears of joy on receiving a warm welcome from neighbours in Bengaluru."
Hence the claim that the video is of a Gandhi Hospital doctor being applauded at an apartment complex in Hyderabad is not true. The video was shot in Ranka Heights society of Bangalore to applaud a Junior Doctor Vijayshree, who is a resident of their society and returned home after 20 days of COVID-19 duty.
Claim Review :
Hyderabad society members applaud a Gandhi Hospital doctor for her Covid-19
Claimed By :
Social Media Users