Hyderabad: Recently a message was circulated on social media platforms that if anyone has money in the Bank of Baroda, then they need to be on high alert, as Calcutta high court has directed RBI to revoke its license.
"!!!!HIGH ALERT!!!! For anyone having funds in Bank of Baroda Please see below Breaking: Calcutta HC Directs RBI to Consider Steps Including Cancellation of License of Bank of Baroda", reads the message.
This message included a link to a website.
https://livelaw.in/news-updates/breaking-calcutta-hc-directs-rbi-to-consider-steps-including-cancellation-of-license-of-bank-of-baroda-read-judgment-152787… is it true @bankofbaroda"
!!!!HIGH ALERT!!!!

For anyone having funds in Bank of Baroda

Please see below

Breaking: Calcutta HC Directs RBI To Consider Steps Including Cancellation Of License Of Bank Of Baroda [Read Judgment] https://t.co/sDNudJHzUi @AskAnshul @DostKhan_Jammu @Swamy39

— शीतल मालवीया(starx technologies) (@shital_malviya) February 18, 2020
This message is in circulation on Facebook too.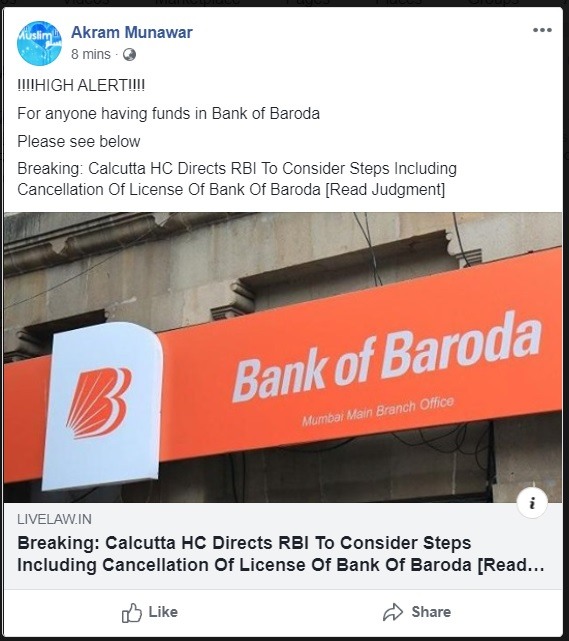 Fact Check:
The High court did not pass any mandatory order that says Bank of Baroda's license must be revoked.
https://www.businesstoday.in/current/corporate/bank-of-baroda-vs-iocl-case-rbi-can-cancel-banks-license-says-calcutta-high-court/story/396376.html
https://www.livemint.com/industry/banking/calcutta-hc-asks-rbi-to-mull-appropriate-steps-against-bank-of-baroda-11581844160345.html
On February 10, the division bench of Justice Sanjib Banerjee and Justice Kaushik Chanda said: "Considering the conduct of the appellants, the Reserve Bank of India should consider what appropriate steps may be taken against the Bank of Baroda, including revoking its licence or the authority to carry on banking business, if necessary".
The court was hearing a case filed by IOCL against BoB as the latter had not released the payment of Rs 6.97 crore with regard to a bank guarantee furnished by it on behalf of Simplex Projects Ltd.
IOCL informed the court that it had entered into an agreement with Simplex Projects Limited in 2017 for conducting certain work at the Bongaigaon facility of the oil marketing company in Assam. In order to carry out the work, Simplex was required to furnish a bank guarantee.
The BoB then provided an unconditional bank guarantee of around Rs 6.97 crore on behalf of Simplex. As stated in the order, Simplex did not honour the contract despite several notices. Ultimately it invoked the bank guarantee.
IOCL argued that the bank did not have any right to delay immediate payment. The oil marketing company also alleged that the BoB informed Simplex about the invocation of the bank guarantee.
Following this, the company (Simplex) immediately initiated proceedings under Section 9 of the Arbitration and Conciliation Act, 1996 before the Delhi High Court (HC), in accordance with the arbitration agreement contained in the contract signed between IOCL and Simplex.
As per the IOCL's submission, Delhi High Court had also found that the bank guarantee was unconditional and the payment could not be avoided once the guarantee was invoked.
BoB did not release the payment stating that Simplex may not have given the money to the bank, even after Delhi high court's ruling.
Against this background, IOCL urged the court that the conduct of BoB is unprofessional and its license of being a Nationalised Bank should be revoked. Concurring to these submissions, the bench ordered RBI to take appropriate action, which may include revoking the license or may not.
So, the alarm that Bank of Baroda's license is being revoked and people having accounts in it should immediately withdraw the money is grossly misleading. The high court did not give any mandatory order to RBI to revoke BoB's license.