Hyderabad: Doctors from around the world are working hard to educate people on the ways to safeguard themselves from COVID-19. Many videos by doctors explaining about coronavirus are in circulation on social media. An audio clip attributed to a noted cardio surgeon and founder of Narayana Health Dr Devi Shetty is widely circulated on social media platforms.
This is by far the best video pic.twitter.com/dXS09dDrxb

— Bold_Monk (@BoldMonk22) March 18, 2020
# Vry Important Message By Dr Devi Shetty ⭐Please follow and share

Avinash Shivaram ಅವರಿಂದ ಈ ದಿನದಂದು ಪೋಸ್ಟ್ ಮಾಡಲಾಗಿದೆ ಬುಧವಾರ, ಮಾರ್ಚ್ 18, 2020
The audio clearly suggests that everyone who has coronavirus or is suspected to have should not get tested. "India has 1.4 billion population and we have less than 1, 50000 kits," a person in the audio can be heard saying. He goes on to add that everyone should track their symptoms and if they are getting worse then, a patient should get tested.
Fact Check:
This Claim is FALSE.
This audio clip is NOT of Dr Devi Prasad Shetty.
When we tried to match the viral audio to the audio from the interviews of Dr Shetty, we found that the audio does not match.
Chairman of Narayana Health talks to NDTV on coronavirus crisis

Chairman of Narayana Health Dr Devi Shetty spoke to NDTV about the coronavirus crisis as Karnataka reports the first death in the country due to the highly contagious disease. "I am very comfortable with how governments are responding.

NDTV ಅವರಿಂದ ಈ ದಿನದಂದು ಪೋಸ್ಟ್ ಮಾಡಲಾಗಿದೆ ಶುಕ್ರವಾರ, ಮಾರ್ಚ್ 13, 2020
Essential Message from Dr Devi Shetty.

Devarajan Thiru ಅವರಿಂದ ಈ ದಿನದಂದು ಪೋಸ್ಟ್ ಮಾಡಲಾಗಿದೆ ಶನಿವಾರ, ಅಕ್ಟೋಬರ್ 19, 2019
We found that Narayana Health Hospital has clarified that this audio is NOT of Dr Devi Shetty on Twitter. "Please note that the audio clip is not of Dr Devi Shetty, Chairman, and Founder, Narayana Health. It has been incorrectly attributed to him," Narayana Health tweeted on March 19, 2020.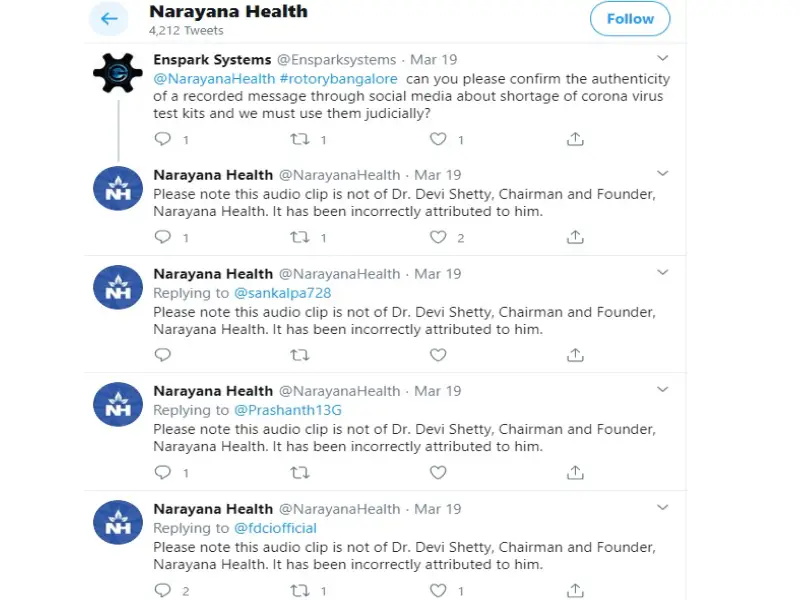 Upon searching Facebook, using relevant keywords, we zeroed in on the post of Dipanjan Das.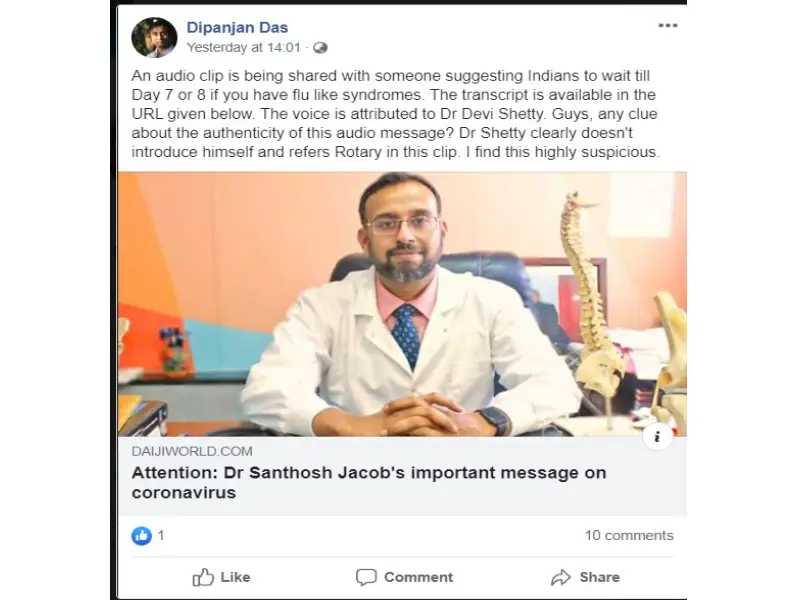 He also shared a report which says Dr Santhosh Jacob, director of Orthopedics and Sports Injury Management, Be Well Hospitals, Chennai, has stepped in to raise awareness about the fast-spreading virus.
The report from Daiji World.com shares the message given by Dr Santhosh Jacob in his audio, which completely resembles the viral audio.
https://www.daijiworld.com/news/newsDisplay.aspx?newsID=685680&fbclid=IwAR15tZIViVeO3cjGU8r9IRddEck2_N3pgMiYdOxsrqaTvevYzlOKMFRR_-E
We found a Facebook page, Dr Santhosh Jacob, where we found many videos. When verified the viral audio with one of his videos which matched
The Actual Truth Of Coronavirus

😀😀 Don't worry about the CoronaVirus anymore 💥 ✅ 57% of people are completely recovered 😀Watch the video below 👇👇 to know the actual truth #coronavirus #coronavirus20 #COVID19 #globally #coronavirusoutbreak #medicare4all #healthinsurance #health #India #finland #COVID19 #prevention #strengthen #medical #doctor #healthyliving #healthiswealth #fitfam #fitnessmotivation #muscles #bone #healthylifestyle #drsanthoshjacob #drsandyjacob

Dr Santhosh Jacob ಅವರಿಂದ ಈ ದಿನದಂದು ಪೋಸ್ಟ್ ಮಾಡಲಾಗಿದೆ ಗುರುವಾರ, ಮಾರ್ಚ್ 5, 2020
Therefore, the claim that the viral audio is of Dr Devi Shetty from Bengaluru is FALSE. It belongs to Dr. Santhosh Jacob, director of Orthopedics and Sports Injury Management, Be Well Hospitals, Chennai.