Hyderabad:Almost the whole world is under lockdown due to the COVID-19 pandemic. Taking cue from other countries, the Indian government has imposed a 21-day lockdown in the whole country. As the days are passing by, citizens are becoming anxious about the extension of the lockdown.
Amidst this anxiety, a message is in circulation mentioning World Health Organisation's protocol & procedure of lockdown periods for controlling on most dangerous virus.
This message shows 4 steps which are
STEP 1 - 1 DAY.
STEP 2- 21 DAYS.
AFTER 5 DAYS.
STEP 3- 28 DAYS.
AFTER 5 DAYS.
STEP 4 - 15 DAYS.
And the same way, our government has followed its lockdown procedure till now.
If because of this lockdown, the COVID-19 cases become zero, then the lockdown will be lifted otherwise it will be extended for another 28 days and after 5 days the final lockdown will be for another 15 days.
This message is viral in Twitter, Facebook and also in WhatsApp.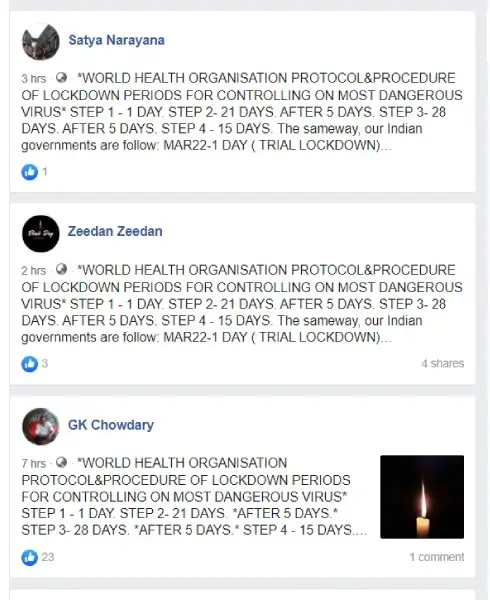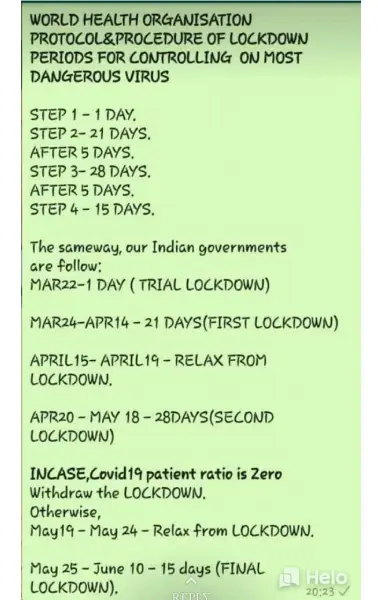 Fact check:
The above claim is FALSE.
WHO has NOT released any official lockdown protocol. No such type of protocols can be found on the WHO website, where all other safety measures and complete information can be seen.
Indian government has dismissed the claims that the lockdown is going to be extended further. Prime Minister Modi has asked the state governments to come up with common exit plan to follow after the 21-day lockdown is completed on April 14, 2020.
PIB also debunked the claim and proved that it is FALSE.
Hence, the above claim is FALSE. There is NO official WHO lockdown protocol to be followed.
Claim Review :
WHO released a COVID-19 lockdown protocol
Claimed By :
Social Media Users