Fact Check: Indian businessman Arun Pudur's claims of distributing hand sanitiser for free busted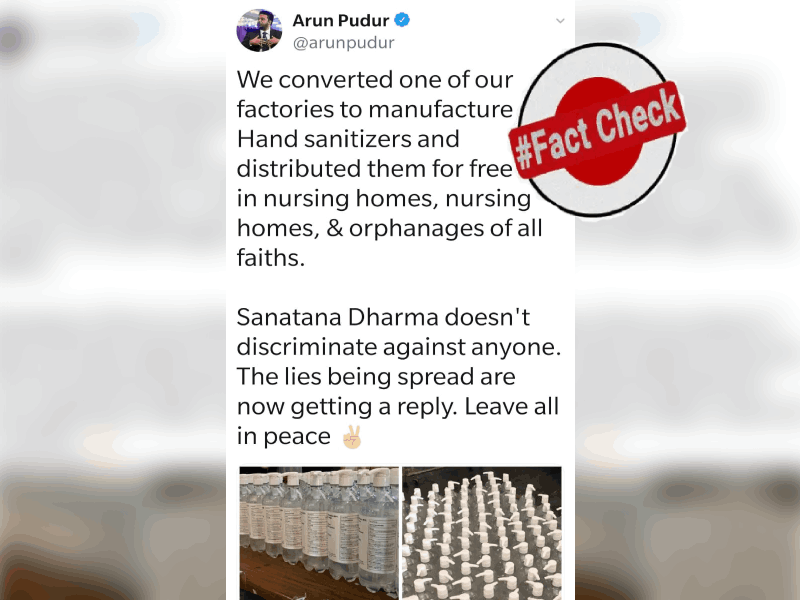 A self-proclaimed Indian tech billionaire, Arun Pudur, on 7 May, tweeted the images of a few sanitiser bottles claiming he has converted one of his factories to manufacture sanitiser and distribute them free to the needy.
"We converted one of our factories to manufacture Hand sanitizers and distributed them for free in nursing homes, nursing homes, & orphanages of all faiths. Sanatana Dharma doesn't discriminate against anyone. The lies being spread are now getting a reply. Leave all in peace (sic)," the tweet read.
The archived version of the tweet can be seen here.
At the time of filing this story, the post was already retweeted 230 times and received 820 likes.
This tweet was posted around 10:42 a.m. on Sunday morning. Hours later, Alt News co-founder Mohammad Zubair shared screenshots of tweets from a US-based brewing company Lucky Bucket Brewing that had similar images of sanitisers which Pudur had earlier claimed was produced by his factory.
The archived version of the tweet can be seen here.
Fact Check:
Arun Pudur is the founder and president of Celframe, a company that produces office productivity suite software.
Following Pudur's tweet, Lucky Bucket Brewing, on Sunday night, exposed his false claims. Replying to Mohammad Zubair's tweet the US company said, "It's been a very confusing morning! Cheers to our new followers from overseas, I hope our brewery in the middle of the Heartland of America can keep you entertained with our beer puns and passable craft beer photography."
The archived version of the tweet can be seen here.
The beer brewing company also said, "So a tech billionaire in India lifted photos from our twitter account in order to allege he was distributing hand sanitizer to local orphanages. I have not been drinking any Wicked Joe this morning, this is a real thing happening. Pray for our mentions."
The company further added, "Hoping this is all just some sort of a weird misunderstanding and those overseas are getting the support and sanitizer that they need. These are weird and scary times and we hope everyone is staying safe!"
NewsMeter further found similar images like those shared by Pudur on the official Twitter handle of Lucky Bucket Brewing. These images were uploaded by the US company on 3 April 2020.
"Cut Spike Sanitizer Update: Here are the first 200 bottles of our medical grade sanitizer packaged up. We will be bottling 1200 gallons today, and these bottles will be heading out to area health care facilities. Much more coming in the weeks ahead. #nebraskastrong," it had tweeted and posted two of the three images that were later picked by Pudur.
"It is our goal to have hand sanitizer available for the public in two weeks depending on the needs of hospitals and first responders. Be safe everyone!"
We also found that the third image used by Pudur of a pickup truck carrying cartons of sanitisers belongs to another Twitter handle @bharpur95 which was published on 3 April. The tweet read, "450 bottles of hand sanitizer on the way to Greater Niagara General Hospital. Thank you to everyone who has contributed so far!"
The archived version of the tweet can be seen here.
When NewsMeter did a Google reverse image search by separating the three image collage shared by Pudur, we again landed on the Twitter handle of Lucky Bucket Brew.
Following this expose, Pudur was called out by many Twitteratis for lifting images and making false claims.
However, responding to these tweets, Pudur again took to Twitter, declaring how the "Bait of Sanitiser" was successful. "We have now over 2,000 accounts of peacefuls with Hindu names and also fake photos. Time to find what they did. More will keep coming. No other way to get so many," he tweeted, sharing screenshots of the Twitter accounts he has blocked.
The archived version of the tweet can be seen here.
In 2016, Arun Pudur had been embroiled in a controversy for allegedly claiming that he is a billionaire. Here is the link to an article by leading business magazine Forbes that exposed his claim in 2016.
The archived version of the article can be seen here.
Result
Hence, Pudur's claims that he has converted one of his factories to manufacture sanitiser and distribute them for free to the needy is false.
Claim Review :
Indian businessman Arun Pudurs claims of distributing hand sanitiser for free
Claimed By :
Social Media Users