Hyderabad: The Internet is crazy over an image of a 'human-sized' bat going viral. NewsMeter team was approached by many asking to check if the image is true. According to the viral claim shared by Twitter user Alex, this kind of bat was found in the Philippines.
He shared the post and said, "Remember when I told y'all about the Philippines having human-sized bats? Yeah, this was what I was talking about"
His post has around 260k likes and 102.9k Retweets.
Is the claim true?
Fact Check:
Well, we found that the claim is true. The human-sized bat is called a 'Flying Fox' and is mostly found in the Philippines. Though the image is true it has been viral on social media since 2018.
https://www.reddit.com/r/natureismetal/comments/963rm3/what_do_you_do_when_you_see_a_flying_fox_in_your/
By doing a reverse image search, we found that the image was published in a Reddit page, Nature is Metal, a year ago. The post has garnered around 31.1k views. It reads, "What do you do when you see a Flying Fox in your backyard? (The Philippines)." The image was also published in a Taiwanese news website on August 13, 2018. The article headline read, "Rare sighting of endangered megabat in the Philippines."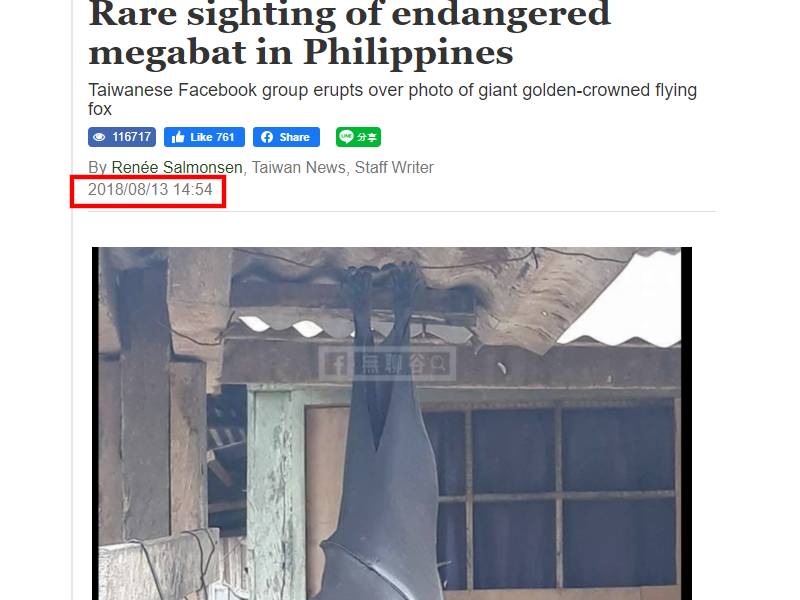 https://www.taiwannews.com.tw/en/news/3505554
According to the International Union for Conservation of Nature (IUCN), the huge bat called golden-cap fruit bat is 'endangered'. These kinds of bats are mostly found in the Philippines. It has a wingspan of 1.7m. It can be 7-11 inches tall. Though this huge the bats are herbivores and mostly prefer eating fruits, they pose no danger to humans in any way.
Alex says that the picture shared by him is of a six-year-old human-sized bat.
Hence, the claim that this is a human-sized bat is TRUE.
Claim Review :
There actually a Human-Sized Bat
Claimed By :
Social Media Users