Fact Check: Lokesh's claim on journo Kunchala picked up by cops for commenting against AP policies is FALSE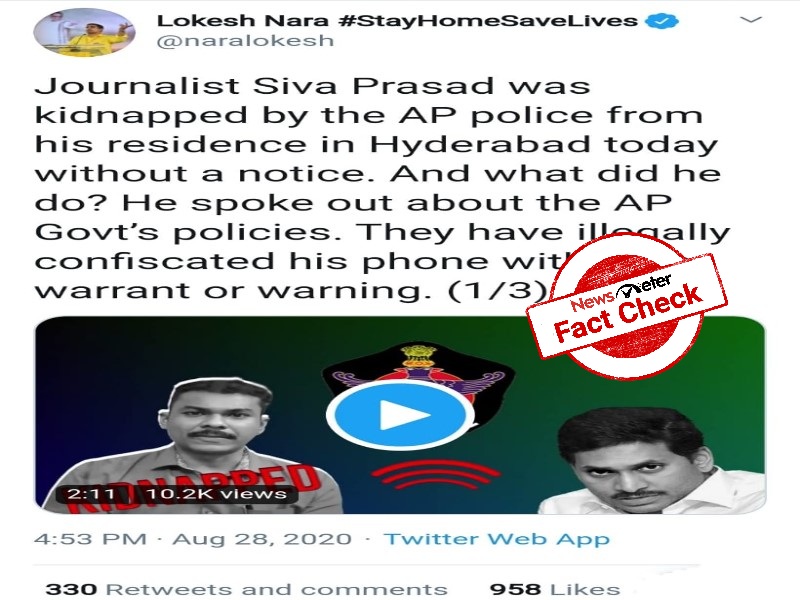 Hyderabad: On Friday, former minister and TDP leader Nara Lokesh made an allegation on his Twitter handle claiming that AP police had kidnapped a journalist from his residence in Hyderabad without any prior notice because the journalist spoke about the AP government's policies.
He tweeted: "Journalist Siva Prasad was kidnapped by the AP police from his residence in Hyderabad today without a notice. And what did he do? He spoke out about the AP Govt's policies. They have illegally confiscated his phone without a warrant or warning. (1/3)
The incident was audio recorded by the journalist's family. Why were notices not served? Why was he kidnapped right in front of his family? Sad to see policemen being used by CM @ysjagan like party Karyakarthas. (2/3)
This is a serious violation of human rights and a grave error committed by the policemen. (3/3)"
Archived claim can be found here, here and here
Fact Check:
He was arrested for spreading fake news against a YSR Congress MP. The claim is FALSE.
According to the Greatandhra website, Siva Prasad posted a story on his YouTube channel from Hyderabad which says a particular MP is in talks with the saffron party and might switch loyalties to the Bharatiya Janata Party any time.
The YSRCP MP filed a complaint on Siva Prasad with the Crime Investigation Department (CID). Police filed a case against Siva Prasad stating that the story on the YouTube channel is in a way tarnishing the MP's reputation with wild allegations.
Following the complaint, police took Siva Prasad into their custody and questioned him regarding the same. He got released after being given a notice under Section 41 (A) of Criminal Procedure Code, the police said.
According to the report published by telugu.news18.com, the audio published is not clear and further details about Siva Prasad are also not available.
The police picked up Siva Prasad to interrogate him about his fake story on YouTube and not for comments on AP government's policies.
Hence, the claim is FALSE.
Claim Review :
Lokesh's claim on journo Kunchala picked up by cops for commenting against AP policies
Claimed By :
social media users