Hyderabad: A video of a person bowing in the middle of the road to offer Namaz has gone viral on Twitter. Some of the tweets are in Turkish. NewsMeter used Google Translate, and this is what it says, "A Belgian mujahideen reads his prayers in the middle of the road because there is no mosque in Belgium."
https://twitter.com/gavuruncocu/status/1191997813145702400
This tweet mentions that it is the street of Liege, Belgium
Belcika liège 'de sokağin ortasinda namaz kılan müslüman.
Bir islamofob olarak, bunun bir müslüman tutum olduğunu sanmıyorum, deli amk, allahın müslüman delisi https://t.co/aVBdsjawSO

— sicolanarkozy (@sicolaofficial) October 27, 2019
Sadly this individual is either brainwashed thinking he is living out his faith publicly & courageously or he is seeking to provoke a response from police to be used against the people of Belgium to justify further violence.😢

Remembering all those killed by religious extremists https://t.co/pJ8LDAeu9y

— Stewart Mills (@StewartMills) October 28, 2019
Fact Check:
Looking at the streets, we can conclude that the incident has taken place in a foreign country. However, one is unsure of the country in which the incident took place. In the video, a billboard with the words 'Le Mechoui Chef Rabah' is seen. Taking the screenshots of the billboard from the footage, NewsMeter performed reverse image search in Google. The billboard is of a local restaurant named 'Le Mechoui chef Rabah' in the city of Liege, Belgium.
When we searched for 'Le Mechoui Chef Rabah' in Google Maps, we found a street with the restaurant.
Here are some pictures that are taken from the street view, confirming that the location is right.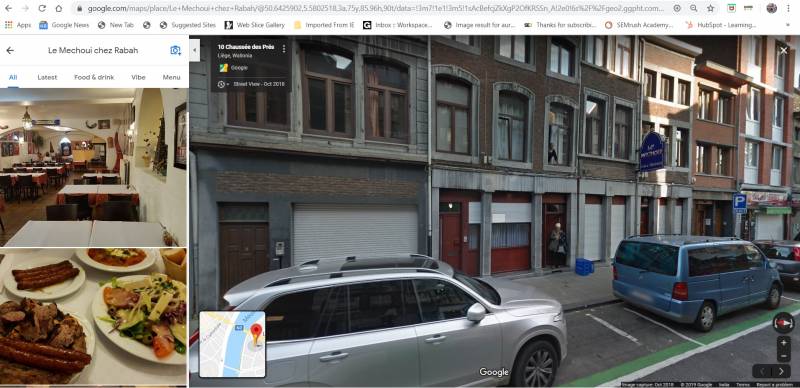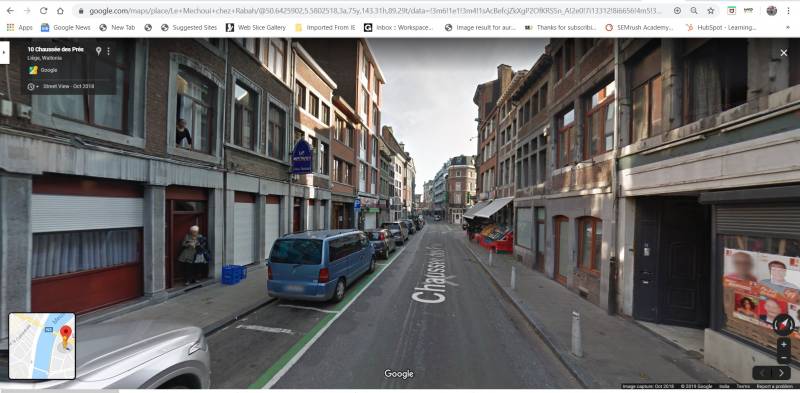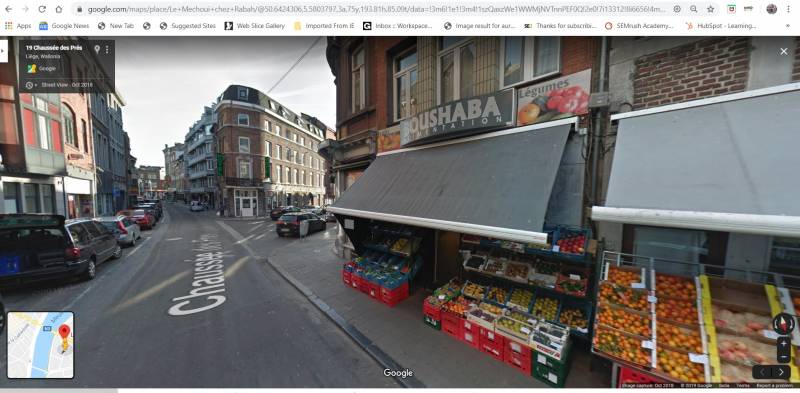 Click here to find the street view: http://tiny.cc/i4ixfz
A local website published the incident of the man in the street offering namaz. The report says, "A man arrested by the police in Liège while he is praying in the middle of the street (video)." According to the article, published October 19, Friday a man was spotted offering namaz on the streets of Liege city in Belgium.
https://www.sudinfo.be/id148917/article/2019-10-29/un-homme-arrete-par-la-police-liege-alors-quil-fait-sa-priere-en-plein-milieu-de
Police officials can be seen taking the man into custody.
Although the man is offering Namaz on the streets of Belgium, the claim that the man was offering Namaz on the streets because there are no mosques in Belgium is False. According to reports, there are around 380 mosques in Belgium.
Claim: Man offering Namaz in the middle of the road in Belgium
Claim by: Twitter
Fact Check: Partly True. The person is offering prayers on the streets of Belgium on October 19, 2019. Some claims that he did this because Belgium has no mosques is False.