Fact Check: Medals with undivided map of India were NOT given to soldiers participating in WW-II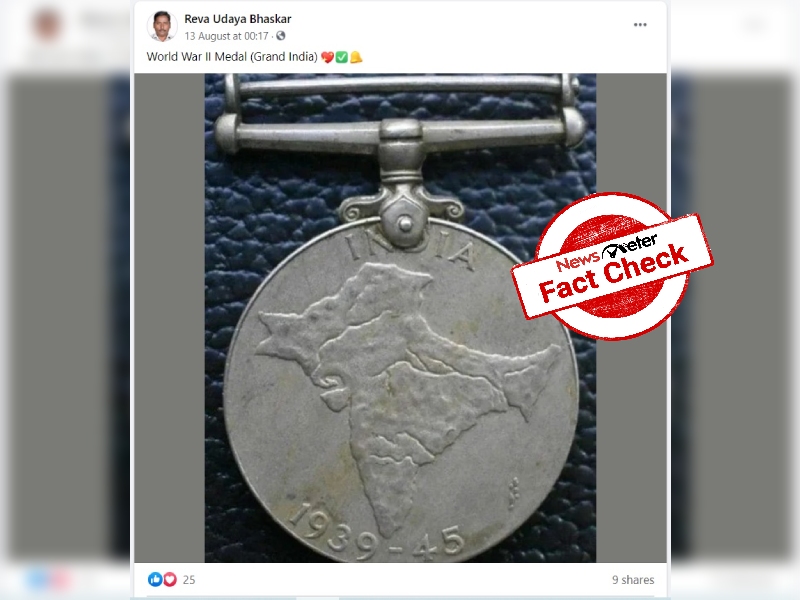 Hyderabad: A picture of a medal showing undivided full map of India is going viral on the social media with the claim that it belongs to World War II Medal (Grand India).
It was shared on Twitter with caption "Medal of the time of World War II, which depicts India before Independence. Akhand Bharat"
Archived claim can be found here, here and here.
Fact Check:
Though these medals were given between 1939 -45 (during World War II), they were not given to the soldiers who participated in World War II. They were given to British Indian soldiers for their non-operational service in the forces. The claim that this is World War II medal is FALSE.
When searched for this image using Google Reverse Image search, we found that this medal is on sale on various ancient coin and antique selling websites, such as Coinbazzar.com, Waterloo-collection.ru - Waterloo military antiques store.
In Coinbazzar.com, we found this medal on sale with caption "British India World War 2 India Undivided full map Defence medal"
When searched with the keywords "British India Defence medal", we found several websites mentioning the details about this medal.
The medal was awarded for those rendering a minimum of three years of non-operational service during September 3, 1939-September 2, 1945. It was granted in addition to the War Medal and the various Campaign Stars. The ribbon has the colours of the Order of the Indian Empire and the Order of the Star of India.
The medal was awarded to British and Indian officers, warrant officers and other ranks of the Indian Forces and Indian Civil Defence Service. Those eligible for the medal included enrolled non-combatants and civilians in Military employ and Emergency Commissioned Officers and British other ranks of either the British or Indian Army, providing that they resided in India prior to 3 September 1939. It was not to be awarded to those who qualified for the Defence Medal.
Though these medals were instituted by the British government and were awarded to British and Indian Officers, who are in non-operational service for 3 years, these medals were NOT given to the war heroes.
Claim Review :
Medals with undivided map of India were given to soldiers participating in WW-II
Claimed By :
social media users