Hyderabad: Amid the CAA controversies, many messages and posts with false claims are ruling the social media. One among them is a report by Mumbai Mirror, Pune Mirror and also Ahmedabad Mirror stating that "To counter Deepika, BJP enlists Shaan, Tanisha"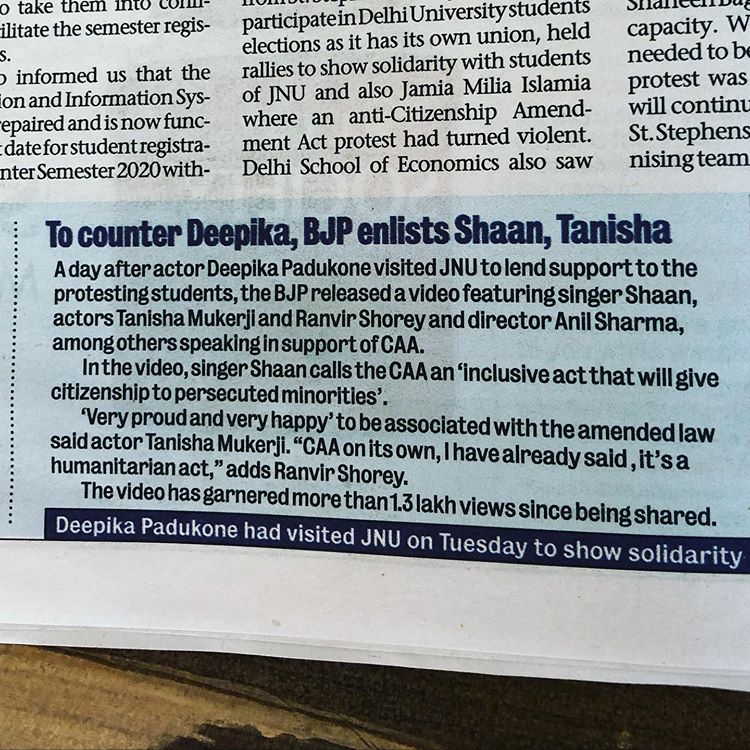 Fact Check:
As part of its outreach program conducted by the BJP, 'Dialogue over CAA', an attempt to explain the facts about Citizenship Amendment Act (CAA), Union Minister Piyush Goyal and Party President Baijayant Jay Panda interacted with many Bollywood celebrities, including Shaan, Ranvir Shorey, Prasoon Joshi, Anu Malik, Bhushan Kumar, Ramesh Taurani, Roop Kumar Rathod, Kailash Kher, among several others.
After the meeting, a video message was recorded by the tinsel town personalities, who expressed their solidarity with the Act. This video was released by the BJP on Wednesday 8 on Twitter. Soon, thereafter some websites released the video while media houses published articles that BJP had 'enlisted' these stars to apparently to counter Deepika Padukone, who had actually visited the JNU campus, the nerve-centre of the anti-CAA agitation.
Singer Shaan took to Instagram to slam the reports appearing in a section of the media and clarified that he was not 'enlisted' by BJP, and that all the celebrities who attended the meeting were 'citizens seeking answers' about the controversy, but not as 'spokespersons' for BJP. He also stated that the meeting was a fruitful exercise.
In his statement, he stated that the meeting was held a day before Deepika visited the JNU campus. He wondered how this could be called as a counter to something that was to happen later. He also mentioned that he was taken aback by the violence and as a sensible person he stands by the side of the students.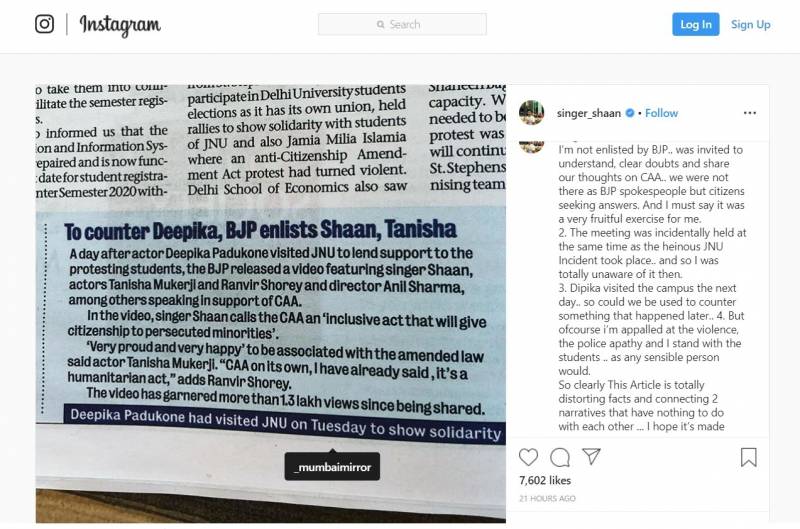 He said articles published in newspaper were distorting facts.
Incidentally, Shaan was featured in a video posted by BJP on Twitter on January 8, in which he spoke in favour of CAA. This video seems to have been shot on the meeting day much before Deepika's visit to the JNU campus.
The Citizenship Amendment Act, 2019 does not affect any Indian citizen.

Watch what the artists have to say about CAA. #IndiaSupportsCAA pic.twitter.com/Bn8exkC1HC

— BJP (@BJP4India) January 8, 2020
Therefore, the claim that Shaan was enlisted by BJP to counter Deepika is FALSE. He attended the Pro CAA meeting held by BJP ministers and had recorded his message after that.