Hyderabad: Noted scriptwriter-lyricist and former MP Javed Akhtar criticised the police for entering the Jamia Millia Islamia university campus "without permission". He took to Twitter to say, "According to the law of the land under any circumstances police can not enter any university campus without the permission of the university authorities. By entering the Jamia campus without permission police has created a precedence that is a threat to every university."
According to the law of the land under any circumstances police can not enter any university campus with out the permission of the university authorities. By entering the Jamia campus with out permission police has created a precedence that is a threat to every university .

— Javed Akhtar (@Javedakhtarjadu) December 16, 2019
A police officer named Sandip Mittal responded: "Dear legal expert, please elaborate the law of land, the section number and the name of the Act etc so that we are also enlightened. Regards."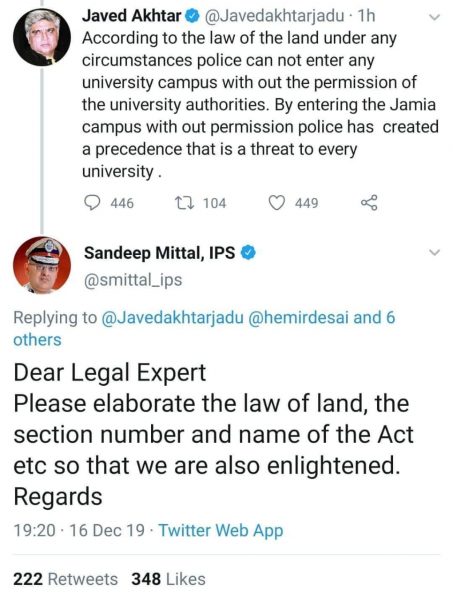 The Twitter exchange made people wonder: "Is there a law that prevents the police from entering a university campus without permission? Are place like universities out of bounds for the police?"
Fact Check:
Newsmeter team checked the authenticity of both the Twitter handles and found them to be genuine.
According to experts, if the police learn that a wrong deed is happening or about to happen at a certain place, they are bound to do everything within the limits of the law to ensure peace is not disturbed or it is restored. Universities and religious places are no exception to this.
The University Grants Commission's guidelines on the safety of students on and off campuses of higher educational institutions do not mention any restriction on the police entering varsity premises.
https://www.ugc.ac.in/UGC_Regulations.aspx
The Criminal Procedure Code (CrPC) elaborates on how the police can arrest a person with or without a warrant from a magistrate. Sections 46 of CrPC authorises the police to arrest a person who forcibly resists their action. Sections 47 and 48 give the authority to the police to chase a suspect into any place in India.
https://indiacode.nic.in/handle/123456789/1611?sam_handle=123456789/1362
But, the police generally do not enter university campuses as action against students may trigger bigger issues. But if they think they need to enter a campus, it is not Illegal. Delhi police officers have said that some outsiders entered the Jamia campus along with the students, compelling them to take the extreme step. The police action evoked protests all over Delhi and in nearly 20 other university campuses across the country.
To conclude, there is no law that prohibits the police from entering a university campus. Cops can enter any part of the country, including educational institutions, if there is a need. The claim is FALSE.