Hyderabad: October 12 marked the 300th day of farmers agitation at Amaravati against the YSR Congress Party government's three capitals decision. Activists staged protests at various places including Tirupati, Anantapur, Rajahmundry, Kurnool, etc.
Few pictures were circulated on social media. Two images showing women being dragged by the police officials were shared with the caption, "Farmers give their lands in Andhra Pradesh and get treated this way. It can happen only under the regime of @ysjagan #300DaysForOneCapital".
Though the tweet is untraceable, here is the archive of the claim.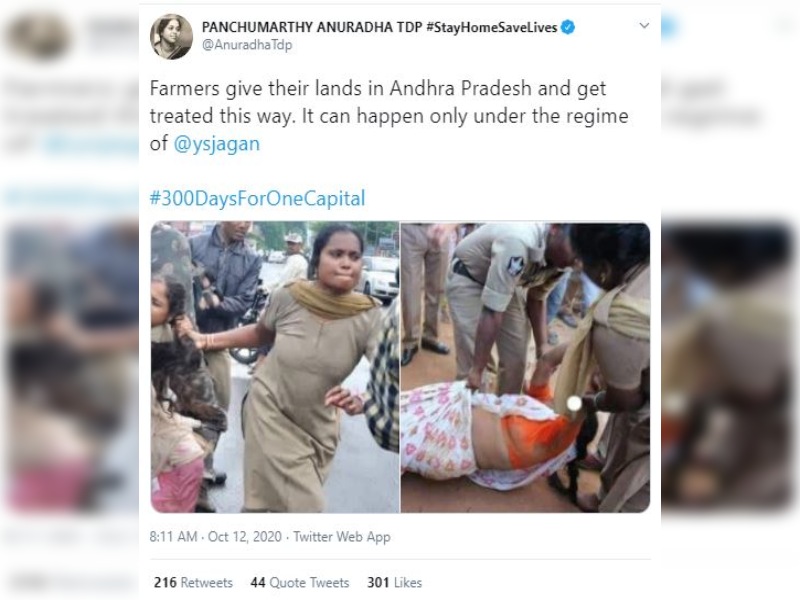 The same tweet was shared by many users.
Fact Check:
The claim that the images belonged to the farmers' agitation in Amravati is FALSE.
The first image was shared in Twitter back in October 2015 by Model and Actor Kushal Tandon with Caption 'The Confused Indian'. The Text on the image shared by the actor stated that "No matter whatever may be the CRIME, the constitution doesn't give the Authority to this Lady Police Officer to pull the accused child by the HAIR. So let's make this Lady famous until she gets SUSPENDED".
Vijayawada police have also tweeted clarification stating that the images are not related to farmers' agitation. Police said those are older images are being shared with false messages. They stated that '#FACTCHECK-These r old pics. The first picture is of 2015 and not related to AP Police and the second picture is related to protest against #MegaAquaFoodPark Tundurru/WG in 2017. These pictures are being circulated in 2020 as part of false propaganda. Previously on a similar post, a case in CrNo 10/2020 u/s 469,505(2) r/w 34 IPC was registered in SRpet PS on people spreading #FakeNews. A case is being registered on this post. @APPOLICE100 @appolicetv #[email protected]
Though we could not able to trace the first picture, the second picture was taken when violence erupted in three villages of Andhra's West Godavari district. Police arrested 12 protesters and detained as many as 60 people including 26 women in July 2017.
Tundurru, Kamsali Bethapudi, and Jonnalagaruvu villages of Bhimavaram Mandal have been on the boil for several months demanding that the Godavari Aqua Mega Food Park being established by the Ananda Group of companies be relocated.
Here are the media reports from the Deccan Chronicle and The News Minute.
Hence, the claim that the viral images are of farmer's agitation is FALSE.
Claim Review :
images of farmers agitation at Amaravati
Claimed By :
Social Media Users