Fact Check: Old video of dogs roaming around in Osmania Hospital wards resurfaces amid pandemic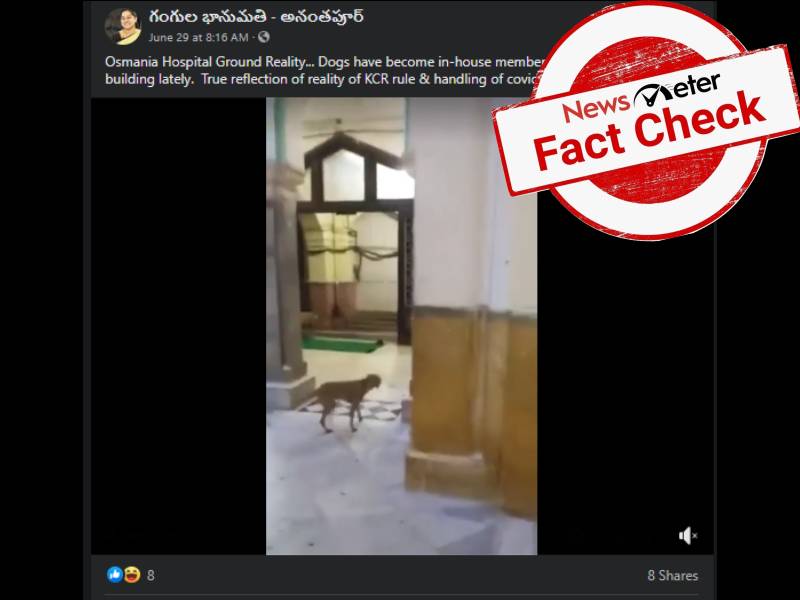 Hyderabad: In Hyderabad, Osmania General Hospital is among the major centres dealing with the Covid-19 pandemic. A video has been going viral on social media stating that dogs and cats are seen roaming around in the ICU, operation theaters and wards of the hospital.
A tweet shared reads, "This is the condition of Hyderabad OSMANIA HOSPITAL. Dogs are roaming inside wards, OP, ICUS as if they are too Corona +ve ! #WhereIsKCR. (Sic)"
The video was also viral on Facebook, with a similar claim, "Osmania Hospital Ground Reality... Dogs have become in-house members of the historical building lately. True reflection of reality of KCR rule & handling of Covid."
Fact Check:
NewsMeter did a reverse image search by extracting certain key frames from the video. While doing so, we found that the video is from Osmania General Hospital, but it is a two-year-old video.
The video was uploaded in a YouTube channel called, 'Prince Aziz' on November 4, 2018. In the video, a man in Hindi is heard saying how cats and dogs freely roam around like doctors in the hospital.
Since 2015, it has been on news that there is stray menace in Osmania Genaral Hospital.
In a video published by Express TV, Telugu, in March 2015, it is said that Greater Hyderabad Municipal Corporation (GHMC) is clearing dogs in the Osmania General hospital.
Again in January, 2017, according to an article published in Deccan Chronicle, it says that the dilapidated hospital buildings have turned into a safe haven for strays.
It has been a problem for Osmania patients since long.
Hence, the video which is being shared is from 2018 or before and has resurfaced amid the Covid-19 situation.
Claim Review :
Old video of dogs roaming around in Osmania Hospital wards
Claimed By :
Social Media Users