Hyderabad: An image of foreigners leading a protest march with 'Justice for Sushant' banners, is going viral on the internet.
A Twitter user wrote,"#[email protected]
@AmitShah The world is demanding for justice for SSR. We want justice Modi Ji, the world wants justice for Sushant Singh Rajput. Thank you Nigeria @shwetasinghkirt @nilotpalm3 @smitaparikh2 @anujakapurindia See How much the world love our Sushant".(sic)
(archived tweet)
Click here to view a similar claim on Facebook.
Fact check:
Claim that foreigners were protesting seeking justice for late Sushant Singh Rajput is false.
Newsmeter performed a reverse image search and found a report by 'CNN' from October 2020. In this report we find the same people holding boards that read 'Reform Police Disband SARS'. It stated that the protests took place in Nigeria over claims of kidnapping, harassment, and extortion by a police unit known as the Special Anti Robbery Squad (SARS).
Below is a photo comparison of the viral image and the image from CNN.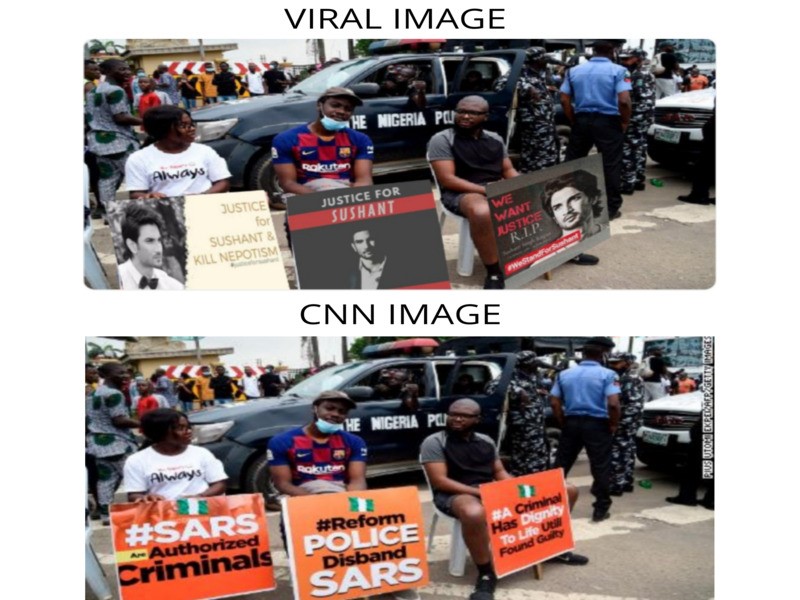 We also found another report by 'News Africa' that attached the same image of people holding boards that read 'Reform Police Disband SARS'. It talks about US singer Trey Songz joining the END SARS protest in Nigeria.
It is clear that the image was morphed and posted on social media with false claims of foreigners protesting for justice for Sushant. This image originally is of people protesting against the police brutality in Nigeria.
Evidently, the claim is false.
Claim Review :
Photo of 'Justice for Sushant' march.
Claimed By :
Social Media Users