Hyderabad: A page on Facebook, named Priyanka Gandhi, with subtitle – A fan of Priyanka Gandhi, shared a picture of Rajiv Gandhi with several others, with a claim in Hindi, when translated says: "These pictures are of the Bhoomipujan which has been done on November 9, 1989. That is, Ekadashi of Shukla Paksha of Kartik month, which we call Devuthani Ekadashi. The government of Congress also took care of the date at that time. The pandits of that time were not hypocritical like today. They took care of everything. Sorry government, you only pretend to Hindutva, you don't have a pinch of knowledge of Sanatan Vedic religion and its tradition." Within 24hours, this picture got shared 543 times.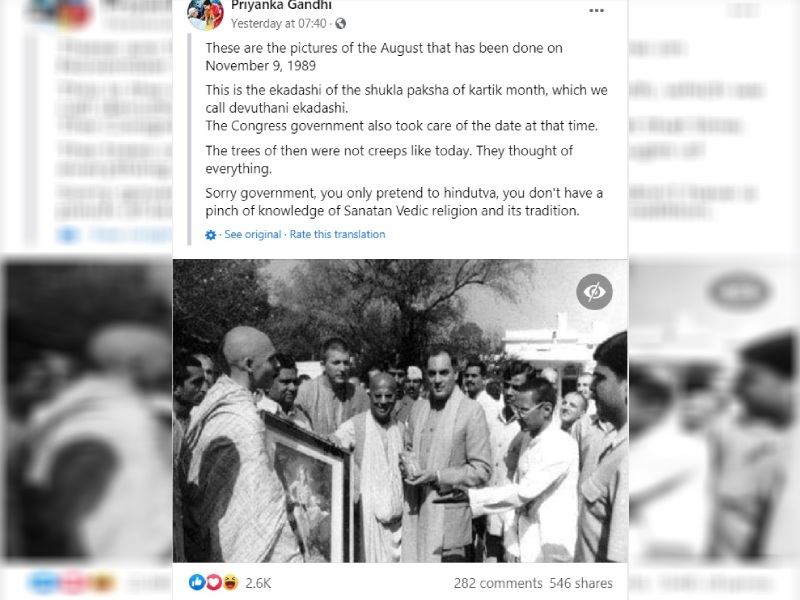 Archived claim can be found here.
Fact Check:
The claim that the groundbreaking ceremony took place in 1989 is FALSE.
It is true that this picture was taken in 1989 but it was taken in Delhi, while Rajiv Gandhi was receiving a copy of Bhagavad Gita in the Russian language from Soviet Hare Krishnas of ISKCON
With the help of reverse search, we found that this image was posted on multiple websites, including the official Twitter account of Congress, where the post clearly mentions it as "Rajiv Gandhi meeting Hare Krishna devotees, 1989" and also on "Wikimedia Commons".
The image description says, "Indian Prime Minister Rajiv Gandhi receives from Soviet Hare Krishnas a copy of Bhagavad Gita as it is in Russian. New Delhi 1989".
Hence, the claim is FALSE.
Claim Review :
Pictures of Rajiv Gandhi claiming to be at Bhoomipujan in 1989
Claimed By :
Social Media User