Hyderabad: With many of the online e-commerce platforms offering exclusive Republic Day deals, many offline messages are also in circulation relating to them.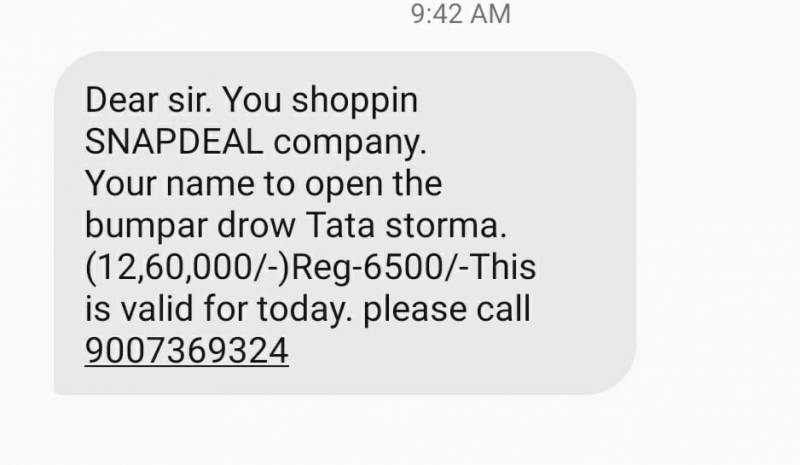 After shopping on Snapdeal, some people got a message in the form of SMS, claiming "Dear Sir. You shoppin SNAPDEAL company. Your name to open the bumpar drow Tata Storma. (12, 60,000/-) Reg-6500/- This is valid for today. Please call 9007369324."
Customers explained that someone is calling them, informing about winning an expensive Tata Safari Storme car and that they were chosen on a random basis.
Fact Check:
Firstly, the spellings of many words on the message are wrong. When we searched the mobile number in Truecaller, the name on the number is specified as "Snapdeal Company (Loknath Sanju)". We took screenshots of this message and searched with reverse image search and we found that such messages have been in circulation for the past few years.
In February 2018, when a customer questioned about the Lucky draw on Quora, Snapdeal Company answered with "Please do not respond to any Phone call/Email/SMS claiming to offer rewards/lucky draw prizes on behalf of Snapdeal. We NEVER request our customers for unsolicited financial information or advance payments in exchange of rewards. All our offers are available ONLY on our website and app.
Thanks- Team Snapdeal"
We also found the company's blog site, which clearly explains about the fake calls in the name of Snapdeal.
We also found a complaint on Consumer Complaint forum online in February 2018, where Snapdeal again clarified that it does not indulge in any such promotional activities nor does it ask for any kind of payments as such.
Some customers who received these messages also shared queries on Twitter and Facebook along with the screenshots. Over a period of time, the messages have been constantly modified and phone numbers, prizes and amounts kept changing.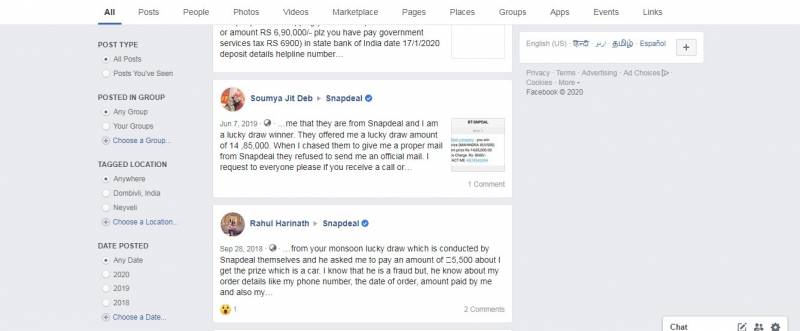 Therefore, the message claiming that Snapdeal is giving away Tata Storme is FALSE. Some fraudsters are sharing these messages in the name of Snapdeal to cheat people. It is wise NOT to answer such calls and NOT to pay them or give away any valuable information like bank details and numbers.