Unprecedented rains in Hyderabad in the past few days has affected several people and flooded major parts of the city. Amidst all this, several unrelated videos are circulating on social media claiming to be from Hyderabad. NewsMeter received a request to fact-check a video of a flooded airport which allegedly is the Hyderabad airport.
The same video was shared on Twitter and Facebook.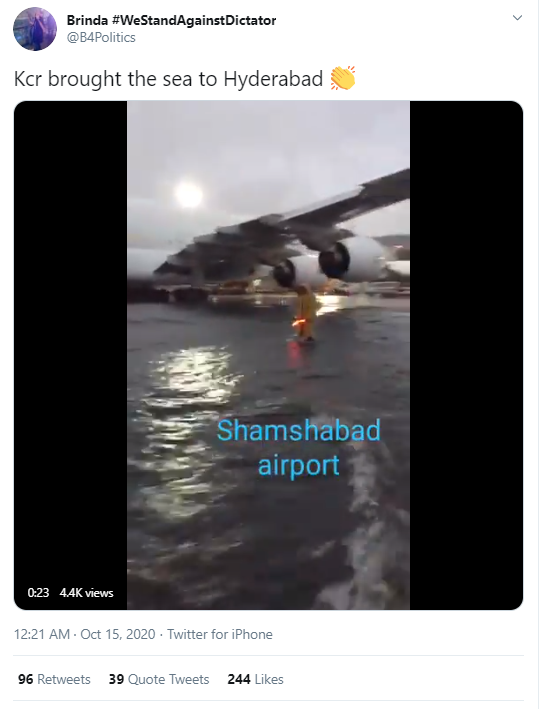 Archive of the post can be accessed here.
Archive of the post can be accessed here.
Fact Check:
This viral video is NOT from Hyderabad and an official statement from the Rajiv Gandhi International Airport (RGIA) authorities confirms the same.
The RGIA issued a clarification about the viral video on its official Twitter account. The tweet read, "It has been noticed many fake videos of waterlogging at RIGA are in circulation. Please be informed that operations at your airport are normal. Your airport is #SafeToFly, and you can reach out to our information desk at any given time or text us on social media platforms for assistance."
Archive of the tweet can be accessed here.
A reverse image search of one of the keyframes of the video revealed that this video has been in circulation since 2017. Several Twitter handles and news portals had shared the same video dating back to 31 August 2017. The news reports said the video was from Benito Juárez International Airport in Mexico City. Articles can be accessed here and here.
Reporteindigo had also tweeted the video on 31 August 2017 identifying it as Mexico City International Airport.
Archive of the Tweet can be accessed here.
On the same day, the official Twitter handle of the Mexico City International Airport had issued a statement about suspension of services due to weather conditions.
Since 2017, this video has been shared with false claims and the airport has been falsely identified as the airports of Mumbai, Bangalore, and Miami.
Hence, the viral video that claims to show the flooded airport at Hyderabad is FALSE. In fact, it is a three-year-old video from Benito Juárez International Airport in Mexico City.
Claim Review :
video of waterlogged in Hyderabad airport
Claimed By :
Social Media Users