Hyderabad: Canadian Prime Minister Justin Trudeau along with his kids has been in isolation after his wife Sophie Grégoire Trudeau contracted COVID-19 on March 12, after she returned from London.
A video claiming "The Canadian PM's wife. For people who are still not taking it seriously.Its all Coronavirus' doing.. Let's pray for her safe immediate recovery.. She looks in quite a bad condition. All to take great care." is viral in all platforms of social media.
This video shows a woman in a hospital, with breathing equipment attached.
This video is also viral on Facebook.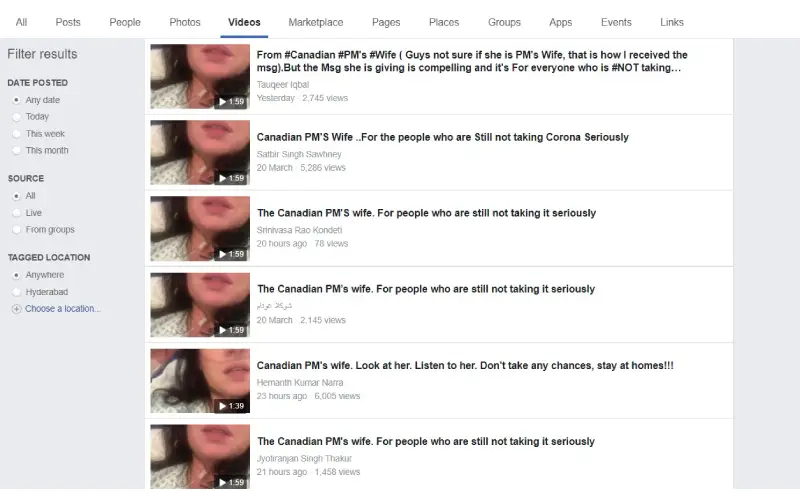 In the two minute video, the lady is seen explaining about her condition and warn people not to take chances and be careful about Corona virus.
Fact Check:
This Claim is FALSE. This woman is NOT wife of Canadian Prime Minister Justin Trudeau.
When performed Reverse Image using the keyframes extracted from the video, we found that the woman in the video is a British National.
Several News Media outlets like New York Post, Daily Mail have published reports about the 39 year old gym going Mom suffering from COVID -19. She was in ICU and to reportedly described the virus as having glass in your lungs.
The original report was published in Metro.uk on March 20, 2020, which says, while in intensive care, Ms Langston filmed her condition to send to her colleagues on WhatsApp. In the clip, she says: "Anyone who is thinking of taking any chances, just take a look at me. I'm in the intensive care unit. I can't breathe without this."
Her name is Tara Jane Langston and she filmed herself with her phone in the intensive care unit at Hillingdon Hospital in west London pleading with others to take the deadly COVID-19 seriously.
Her friends shared this video on her Facebook wall and wished her speedy recovery.
Therefore, the claim that the above video belongs to wife of Canadian Prime Minister is FALSE. This video belongs to a 39 year old British Woman, who was affected by COVID-19 and is going through intensive treatment in a London Hospital.
Claim Review :
Trudeaus wife make video in her quarantine
Claimed By :
Social Media Users