With the dawn of 2020 fast approaching, many organisations have started the ritual of releasing calendars. Following this tradition, Tirumala Tirupati Devasthanam(TTD), Tirupati, has also released its 2020 calendar on Friday. Following this, many circulated a message saying that when searched with the terms "ttd calender 2020 pdf", Christian prayers have popped up in the results.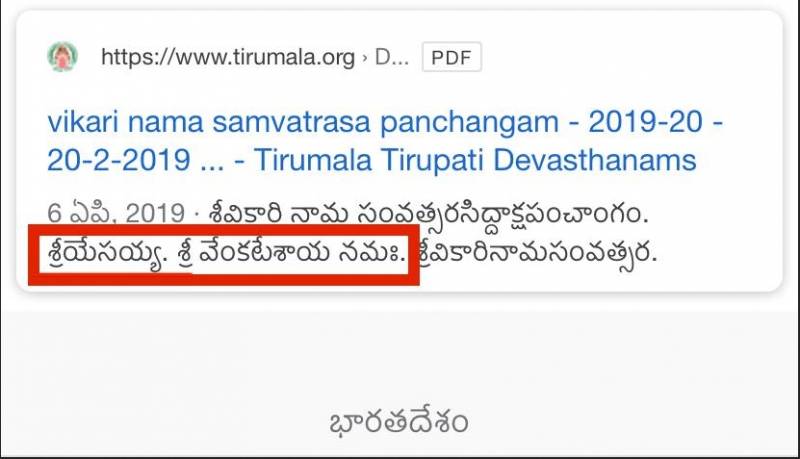 Shocking incident, the name of Jesus Christ popped up on the up on the link to the official page of the TTD ''https://t.co/Np93V8zHo6''

The display image of the link read "Sri #Yesaiah. Sri Venkatesaya Namaha. Sri Vikarinama Samvatsara Siddastha Panchabdamu 2019-2020@AskAnshul pic.twitter.com/4haU0cBz7h

— Chowkidar Sai Viswateja (@Sai_Viswateja) November 30, 2019
This particular message has been circulated on Twitter and Whatsapp. The display image of the link read "Sri Yesaiah. Sri Venkatesaya Namaha. Sri Vikarinama Samvatsara. Siddhanta Panchabdamu 2019 - 2020". The first words read Sri Yesaiah - the name of Jesus Christ in Telugu.
Fact Check:
As Tirumala Tirupati Devasthanam is an abode to Lord Sri Venkateswara, the Andhra Pradesh government has banned preachings and other activities of non-Hindu religions in Tirumala. The name of Jesus Christ popping up in the website of the temple is being condemned by devotees from all over the world.
Media reports stated that the allegations were TRUE and TTD officials have ordered a probe on faux pas.
https://timesofindia.indiatimes.com/city/amaravati/ttd-orders-probe-after-christs-name-pops-up-on-link-to-its-official-website/articleshow/72305005.cms
https://www.thenewsminute.com/article/fresh-row-tirumala-ttd-takes-down-link-e-book-christian-content-it-109393
The name 'Shri Yesayya' (శ్రీయేసయ్య or Shri. Jesus Christ) appeared to have been inserted in a previous version (2019 – 2020) of the Tirumala Tirupati Devasthanam's panchangam document, which has since been updated and there is no mention of Jesus anymore. It is no more available as TTD immediately removed the link from its website and ordered a probe by its internal vigilance and security wing.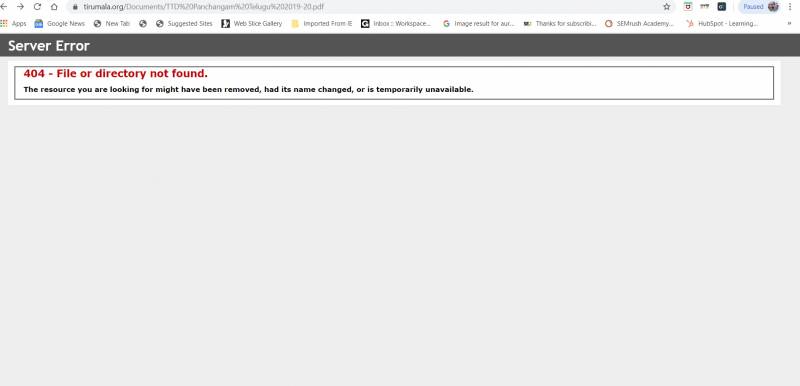 TTD officials are questioning the IT staff and have urged TCS employees to find out how these words appeared on the website.
During recent times, Tirumala Tirupati Devasthanams has been in the news because of issues related to propagating Christianity by advertising 'Jerusalem Yatra' on bus tickets of Tirumala, hiring non-Hindu employees, books praising Jesus Christ on TTD's website, among other things.
Therefore, The allegations of the appearance of Jesus Christ's name on the website of Tirumala Tirupati Devasthanams are TRUE.
TTD says Google Translation error
Talking to the press on Sunday (December 1, 2019) evening, TTD chairman Y V Subba Reddy said that this is a deliberate attempt to raise a controversy against TTD board. Media is Intentionally fabricating such news to tarnish the image of CM of AP Sri Jagan Mohan Reddy and start communal disharmony in the state. He also requested the media is not to play games with Lord Venkateswara and sentiments of crores of Hindus across the globe and tarnishing the image of TTD and Lord is an unpardonable offense. He also asserted that TTD is going to take legal action against such baseless allegations.
TTD EO Anil Kumar Singhal dismissed the issue as an Interpretation error by google. Google results were transliterated based on the pdf image, font size, font type and space between the letters. So, error occurred during this Google interpretation, and there are no erroneous entries in TTD website or panchangam.
He said TTD has already sought a clarification from Google on the issue and it took 12 hrs to update on the google cache. The word is not appearing on the google page now and is missing.
TTD chairman YV Reddy also said that TTD has proposed its very own cyber wing to face such issues and allegations in future.
The allegations made are TRUE.
Claim Review :
TTD faux pas
Claimed By :
Social Media Users