Hyderabad: Dr Kafeel Khan was released from Mathura jail after the Allahabad High Court quashed his detention under the National Security Act. The court has ordered his immediate release, saying his speech didn't promote hatred or violence at the AMU and gave a call for national integrity.
A post is viral on the social media platform Twitter of Dr Kafeel Khan and his wife, Shabista Khan. Soon after Dr Khan's release from Mathura jail, tweets from Twitter handle operating in their names are viral on social media.
Facebook user Md Wasay Zafar uploaded a screenshot of two Twitter handles on September 2, with the caption in Hindi that translates as Dr Kafeel is released and reaches home. Please ignore the rumours.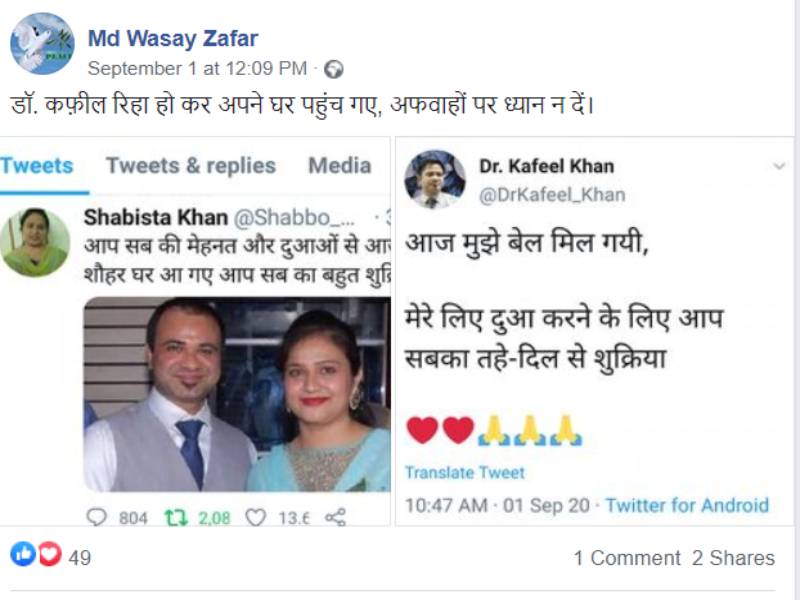 The Facebook post was deleted. Here is the archived version.
Fact Check: Both the accounts used in the viral post are fake.
Shabista Khan is the wife of Dr Kafeel Khan. The first screenshot was named Shabista Khan. We found a Twitter handle shabbo_khan_ created in April 2019, which has over 7,200 followers. Pictures of Dr Kafeel, his wife and children were used in the account. We also found the viral tweet in a claim that was posted from this account on September 1.
The Twitter user Shabista Khan @Shabbo_khan tweeted a picture of Dr Kafeel Khan and his wife with a caption in Hindi which translates as Today my husband has reached home. Thank you all for your hard work and blessings.
आप सब की मेहनत और दुआओं से आज मेरे शौहर घर आ गए आप सब का बहुत शुक्रिया pic.twitter.com/kFI2i949jL

— Shabista Khan (@Shabbo_Khan_) September 1, 2020
The second screenshot was named Dr Kafeel Khan. It was created in May 2020 and had over 20,000 followers. Also found the viral tweet in the claim posted from this account.
The Twitter user Dr Kafeel Khan @DrKafeel_Khan wrote, "Today I got the bail, thank you all heartily for praying for me.'
आज मुझे बेल मिल गयी,

मेरे लिए दुआ करने के लिए आप सबका तहे-दिल से शुक्रिया

❤️❤️🙏🙏🙏

— Dr. Kafeel Khan (Fan) 🇮🇳🇮🇳 (@DrKafeel_Khan) September 1, 2020
Alt news co-founder Mohammed Zubair replying to @Shabbo_Khan_ tweeted 'Fake account.'
Fake account

— Mohammed Zubair (@zoo_bear) September 1, 2020
Dr Kafeel Khan's official twitter account is @drkafeelk
Alt news co-founder follows this account.
His wife's official twitter account is @ShabistaDr
After thoroughly analysing both the Twitter handles, we conclude that the posts made by the two Twitter handles @Shabbo_Khan and @DrKafeel_Khan are fake accounts.