A viral video where a man meets his teacher after 26 years is circulating on social media. This falsely claimed video has been posted by several people on social media.
According to a tweet by 'Rajanikanthpabba', the man in the video is claimed to be Google CEO Sundar Pichai. The tweet along with the video reads," #Google CEO Sunder Pichai meets his teacher after 26yrs watch a great humane gesture....👌👌👌(sic)".
Click here to view the archive.
Great Telangana TV, a prime live channel on web media, also posted this video with the title "Google CEO Sundar Pichai special surprise to his childhood teacher | Sundar Pichai CEO Google| GTTV".
FACT CHECK :
The claim of the man being Sundar Pichai in the viral video is FALSE.
A glance at the video showing the man who is spending time with the elderly woman makes one know it is not Sundar Pichai. Below is a photo comparison between the man in the video and Sundar Pichai.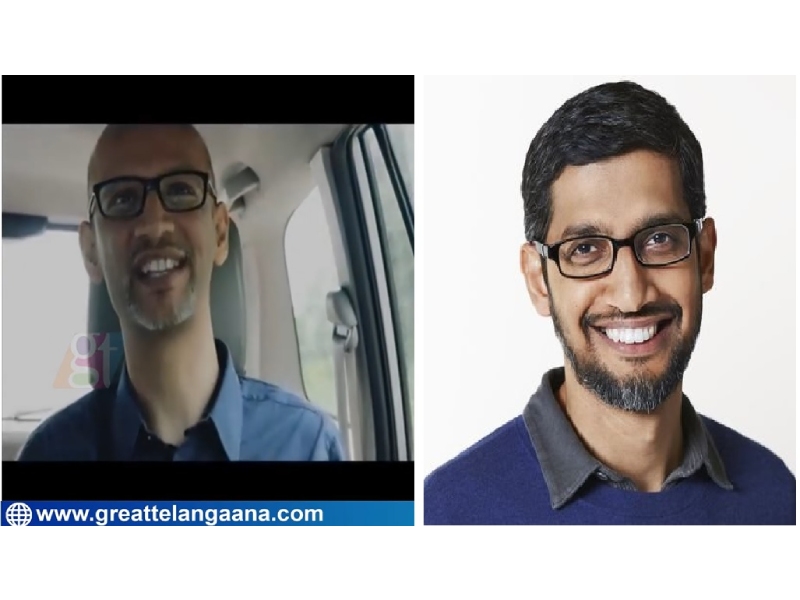 At the end of the video, a line 'A tribute to the hidden counselor in Molly Abraham' is displayed. Using this line, NewsMeter performed a keyword search and found a longer version of the video on YouTube by 'IC3 Movement' dated September 1, 2017.
This version bore a name title at the beginning which identified the person in the viral video as Ganesh Kohli. Kohli is the founder of 'IC3 Institute' and has helped build a platform that is providing a focus on career and college counseling within high schools. The video on the official YouTube channel of 'IC3 Movement' titled 'Molly teacher' shows Kohli talking about his mathematics teacher and his journey to meet her after 26 years.
A tweet by Ganesh Kohli on August 14, 2020, where he had called out the misleading claim proved that the claim is fake. He said," A 3 year old @ic3movement video of me meeting my teacher began to go viral last month. Over time, in many circles, the video was attributed to @sundarpichai or @satyanadella. While the message of the video is most important, how do you address this #misinformation @KarthikOnTheGo".
He also shared the link of the YouTube video by IC3 movement in the comment section on Twitter.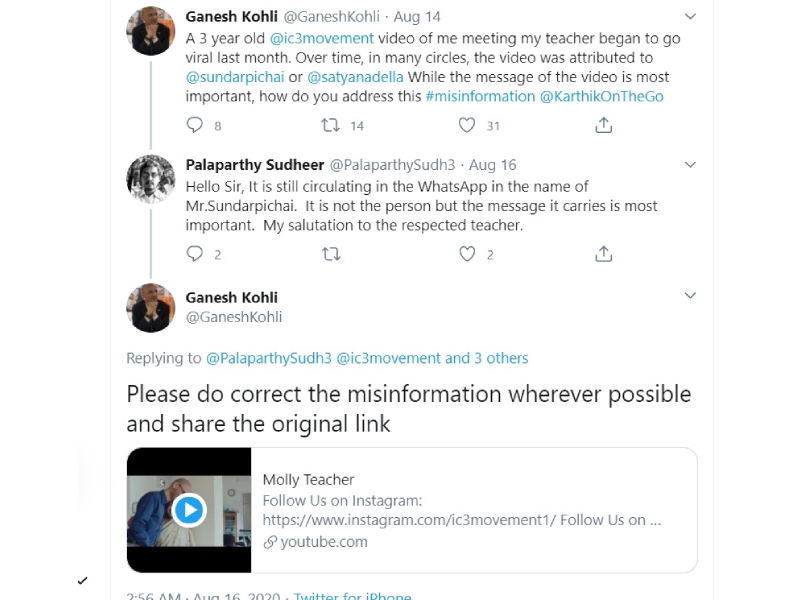 Thus, the claim of the man being Sundar Pichai in the viral video is FALSE.
Claim Review :
GOOGLE CEO met his teacher after 26 YEARS
Claimed By :
social media users