Fact Check: Video of Quilashapur fort falsely claims to show wall collapse at Golconda fort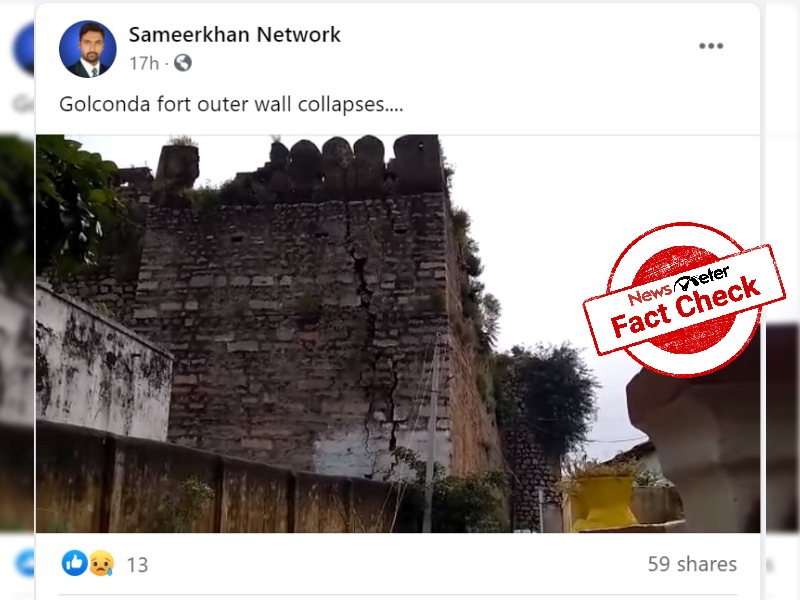 Hyderabad: Heavy rains have lashed Hyderabad and several other places in Telangana the past few days, waterlogging roads and triggering flash floods in the region.
Amidst this, several videos claiming to show the situation in the city have gone viral on social media. A video of a fort wall collapsing has gone viral with a claim that the outer wall of Golconda Fort collapsed due to the heavy rains.
The video is doing the rounds of Facebook and WhatsApp.
It was also uploaded on YouTube.
Archive links of the claims can be found here, here and here.
Fact Check:
The claim that viral video shows the outer wall of Golconda fort collapsing is FALSE.
Though it is true that a part of a 20-feet wall in front of the Sri Jagadambika temple inside Golconda fort collapsed on 16 October following heavy rains, the viral video shows the collapse of the Quilashapur fort wall, located about 95 km from Hyderabad.
According to a report by the Hans India, the Golconda wall collapse comes a day after the Quilashapur fort wall collapsed on Thursday. The historical Quilashapur fort was constructed by Sardar Sarvai Papanna in the 17th century.
A video of the 30-feet wall of the 17th-century fort collapsing has gone viral online, reported an article in the Indian Express.
The Quilashapur fort has been at the receiving end of official apathy and neglect for years, and now questions are being raised about its safety.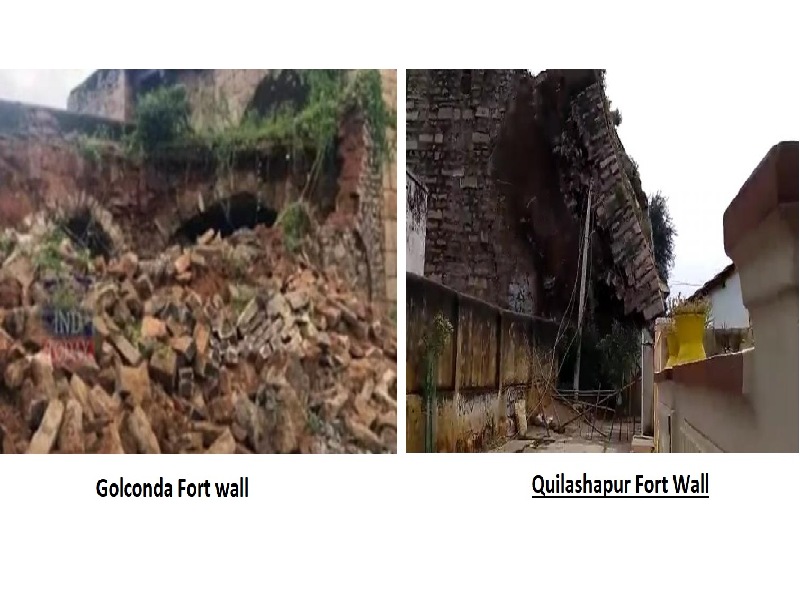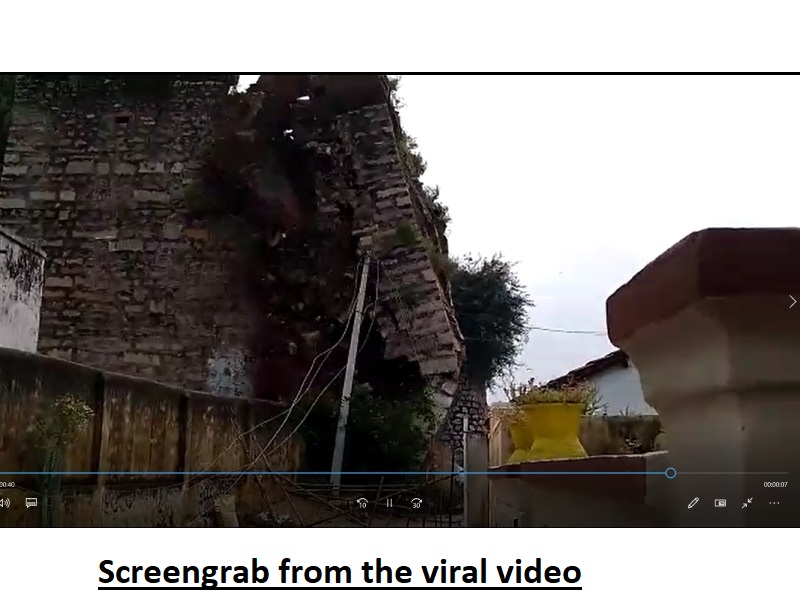 The News Minute had also reported that heavy rains that lashed Hyderabad over the last week has threatened the city's heritage as a portion of a wall of the Golconda fort collapsed. Earlier in the week, some portions of Majnu Burj in the Naya Qila area of Golconda Fort had collapsed. The fresh collapse reportedly took place on the wall that is opposite to Sri Jagadambika in the fort, it said.
The Archaeological Survey of India (ASI) officials inspected the damaged portions of the fort and took stock of the scene. The Majnu Burj is under the control of the Hyderabad Golf Club (HGC). The fort, originally built in the 12th century and later fortified between the 14th and 17th centuries, when it was the seat of power in Hyderabad, is listed as a heritage structure and comes under the jurisdiction of the ASI.
Another report by the News Minute published on 16 October said a portion of a wall in the south-west side of the Quilashapur fort, located in Jangaon district of Telangana, collapsed due to the rains on Thursday. In the incident, three houses near the wall were demolished. However, fortunately, there were no casualties.
The photos of Quilashapur fort shared by several media outlets match the visuals of the viral video. Hence, the viral video shows the collapse of the outer wall of the 17th-century Quilashapur fort in Jangaon, Telangana, NOT Golconda Fort.
Claim Review :
Fact Check: Video of Quilashapur fort falsely claims to show wall collapse at Golconda fort