Fact Check: Videos on social media claiming to be fire mishaps at Dubai's airport and duty-free warehouse are FALSE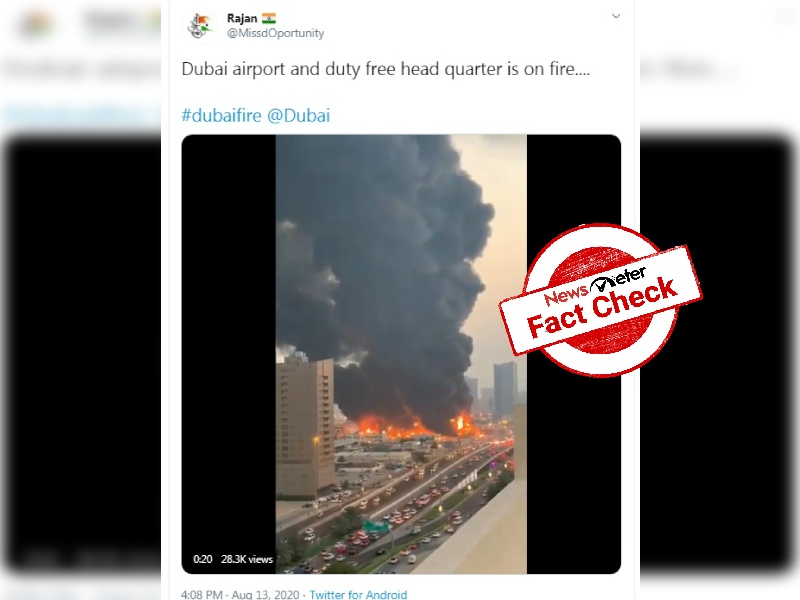 Hyderabad: Following the massive explosions in Lebanon on Aug. 4, 2020, social media was flooded with a lot of such videos with false attributions. One such WhatsApp forward consists of two videos identifying them as fire accidents in an airport and duty-free headquarters in Dubai, UAE. NewsMeter received fact check request for this claim on its WhatsApp number.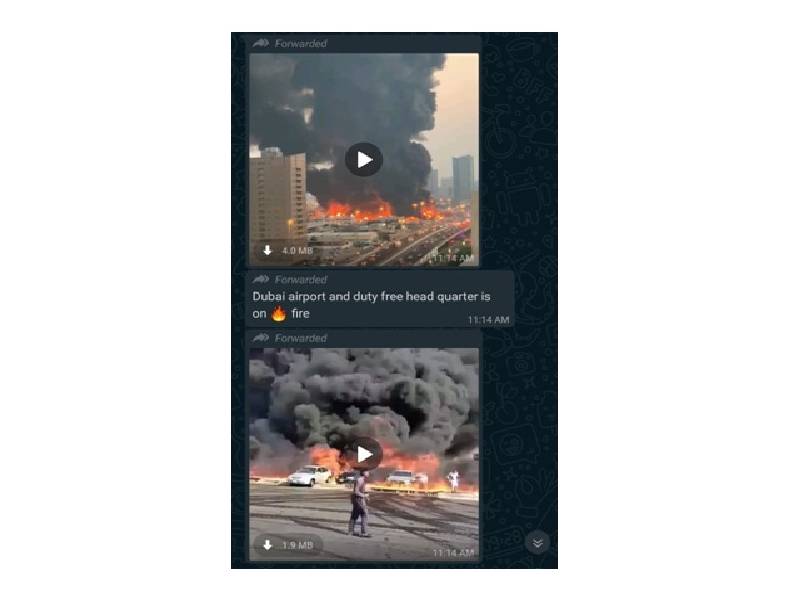 These videos were shared on Twitter and Facebook with a similar claim.
Fact check:
Video 1
No, fire accident did not happen at Dubai airport and this video is related to fire accidents that occurred in the Ajman market, 40 km from Dubai.
Using the InVid tool, we broke down the video into its keyframes. Upon reverse image search of one of the keyframes, NewsMeter came across several news reports featuring the same video. They have reported that this is a fire accident that happened in the Ajmam market in UAE on Aug. 5, 2020. Times Now News reported that "A massive fire broke out in the market of Ajman area in the United Arab Emirates (UAE) on Wednesday evening. Several fire fighting engines were seen rushing towards the spot while the authorities are yet to ascertain the cause of the fire. No casualty has been reported so far."
The same was reported by Fox News , BBC and others.
Video 2
This video is not related to the fire accident that happened at the duty-free building in UAE. It is a video of the fire from a oil pipeline in Egypt that occurred on July 15, 2020.
A reverse image search of one of the keyframes led us to several news reports identifying this video as pipeline fire explosion in Egypt. The New York Post stated that "A major fire broke out after a leak of oil from the Shuqair-Mostorod pipeline next to a busy highway in a Cairo suburb on Tuesday and 17 people were injured, authorities said."
Telegraph posted the same video and reported it as a "ruptured crude oil pipeline sets off a huge fire in Egypt."
In fact, the fire accident did occur in a duty-free warehouse in UAE on Aug. 10, 2020, but it was a minor mishap.
With keyword search of 'duty-free headquarters fire', NewsMeter came across several news reports identifying the accident as a minor one and that the fire was doused off in a few minutes.
Khaleej Times stated that "The quick-acting Dubai Civil Defence teams doused a fire that broke out in the issuing yard of the Dubai duty-free warehouse in Umm Ramool around 2 pm on Monday.They were able to control the fire by 2.16 pm."
So both videos shared on WhatsApp were of false attributions.
Hence, videos shared on WhatsApp are UNRELATED and FALSELY attributed to Dubai's airport and duty-free warehouse fire accident in UAE.
Claim Review :
fire mishaps at Dubais airport and duty-free warehouse
Claimed By :
social media users