Hyderabad: A message is being forwarded on WhatsApp claiming that a Mumbai-based doctor is saying that steam inhalation is cure for Covid-19. In the audio, he says by inhaling steam, the virus which is blocked in our nose can be killed. He says it is kind of a para-nasal passage treatment.
The audio is in Marathi and the person is also heard saying that he has given the steam inhalation machines to several hospitals and police stations in Mumbai. NewsMeter received a request to fact check this message.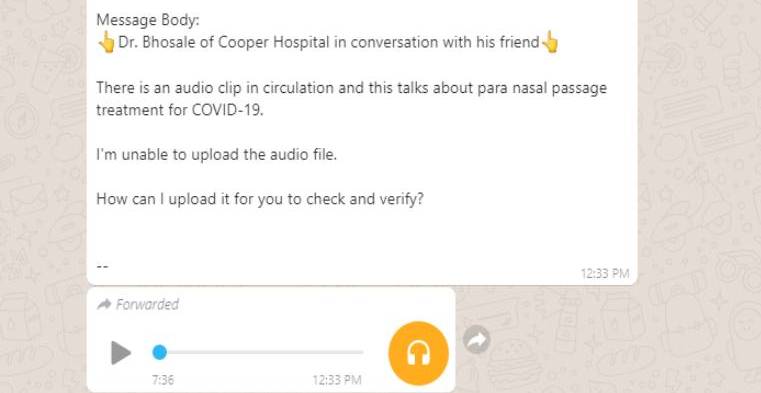 Fact Check
Previously, many images and WhatsApp messages were viral stating that steam can kill Covid-19 virus and Chinese were inhaling steam to fight against the virus.
During that time, NewsMeter spoke to Rakesh Mishra, director for Centre for Cellular and Molecular Biology (CCMB), Hyderabad.
He said, "Inhaling steam when one has respiratory illness, cough or cold will help reduce the severity of such symptoms, in general. However, this inhaling will provide only symptomatic relief. It does not mean that the infection caused by the Coronavirus is cured."
He further added, "There is no scientific basis to prove that inhaling steam can prevent the virus from reaching the lungs, because the virus is capable of multiplying rapidly. Moreover, there are chances of people burning themselves due to constant exposure to hot vapour. Too much steaming and inhaling could be dangerous and not really advisable."
Further, Boom Live which earlier fact checked the audio message with a police officer in Santacruz police station and the person in the audio is heard saying that he gave steam inhaling devices to the police station even when no case had been detected there. The police officer is quoted saying that though they received such devices and have used them, an assistant sub-inspector from their police station died of Covid-19 in June.
We tried to reach the Cooper Hospital, but there was no response from their side. Meanwhile, the actual person behind the audio is unknown.
Claim Review :
Viral audio claiming that steam inhalation is cure for Covid-19
Claimed By :
Social Media Users