Hyderabad: An image of a rock hanging in between two mountains with a Shiva Linga sculpted on it is viral on social media. It is being shared with a narrative in Hindi claiming that it was built in the mountains of South India by our ancestors.
"।।आरम्भ भी अंत भी,शांत भी प्रचंड भी ।। #दक्षिणीभारत में दो पहाड़ो के बीच स्थित शिवलिंग,देखो सनातनियों हमारे पूर्वजों ने कितनी मेहनत व कितनी अद्भुत महान वास्तुकला का हमे परिचय करवाया और विरासत में हमारे लिए इतने अद्भुत अजूबे हमारे लिए छोड़कर गए है। हर हर महादेव "
"Shiv Linga between two mountains in Southern India. See how difficult and great architecture our ancestors made. They left so many wonderful wonders for us," reads the English translation of the viral message.
"Our misfortune has been that political conspiracies were hatched against our history and the task of writing history was given to the #Lefties. They have only done the work of burying all these things. Today this needs to reach every person. It is our duty to protect it. Wake up, Hindu wake up. The country will wake up and it will survive," reads the message on Facebook
Archive links to the claims can be found here and here.
Fact Check:
The claim is FALSE.
The image when performed reverse image search fetched a few interesting results on Google, though the viral image was shared several times on Pinterest. We also found that few travel blogs also shared the image of the rock hanging in between the mountains without Shiv Linga on it.
One such blog shares the same image without Shiv Linga on it, stating that this was from Norway. When searched with the keyword Norway along with the image, it fetched several results on Google as well as Yandex.
We also found a link to the official Norway Tourism website which discusses this famous travel destination. The mountain called Kjerag is a seasonal hiking destination. The boulder hanging in the mountains is called Kjeragbolten.
We also found YouTube videos showing people hiking the mountain and reaching the famous boulder, Kjeragbolten. Here is the video uploaded by the YouTube channel 'Amazing Places on Our Planet' in 2013.
A screenshot from the video showing the boulder: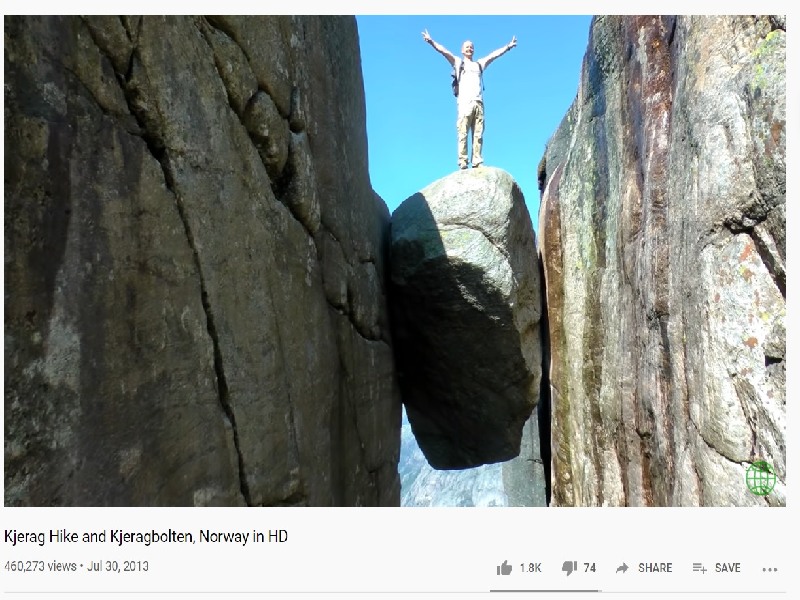 According to a report published in earth trekkers .com, Kjeragbolten is located in Southern Norway and is one of the most spectacular hikes in the world.
Therefore, the claim that this place belongs to South India and a Shiv Ling has been carved on a hanging Boulder by our ancestors is FALSE. This is a morphed image, with Shiv Linga photoshopped on to an image of famous Boulder on the mountains of Kjerag in Norway.
Claim Review :
Viral image of Shiv Linga sculpted on hanging rocks
Claimed By :
Social Media Users