Hyderabad: A message claiming that "four kidneys are available" following the death of a couple in an accident is doing the rounds of Facebook and Twitter. According to the message, their family wants to donate the kidneys for "humanity".
The same message is also being circulated in Telugu.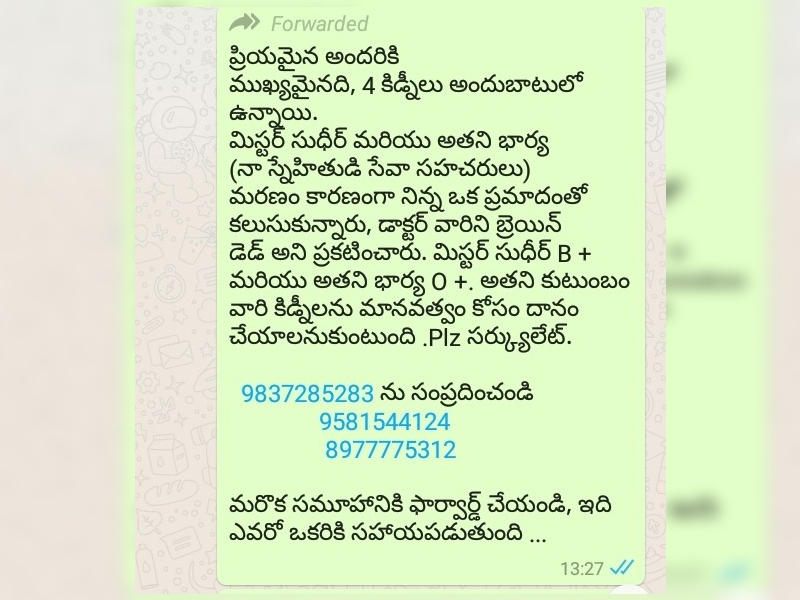 NewsMeter received a request to fact-check the message.
Fact Check:
This claim is FALSE.
The viral message has been in circulation for more than two years. We found many tweets with the same message from 2018 and 2019.
NewsMeter tried to contact the numbers provided in the message. One rang but no one picked up, while the second number was switched off and the third did not exist.
We also found an article published in The Hindu which claimed that the mobile number of a Meerut-based nephrologist, Dr. Sandeep Kumar Garg, has been ringing non-stop with inquiries about the kidneys. The report said officials from the National Organ and Tissue Transplant Organisation have called Dr. Garg to inquire about the message. Officials have declared that this message is a hoax and the police have started an investigation.
Another article by The Hindu claimed the message is meant to create confusion among the public. Organs cannot be donated through WhatsApp or any other social media platform and this incident shows the lack of unawareness among even knowledgeable people, said a transplant surgeon.
SM Hoax Slayer has debunked this claim stating it is a hoax.
Hence, the claim that four kidneys are available for donation following the death of a couple in an accident is FALSE.
Claim Review :
Fact Check: Viral message on kidney donation
Claimed By :
Social Media Users