Hyderabad: Haldiram's is a household name in India, selling everything from savory snacks, known as namkeens, to traditional sweets, potato chips, and more recently, complete frozen Indian meals.
Recently, a message is in circulation about Haldiram's on social media platforms claiming that the USFDA has banned all Haldiram snacks due to the presence of high levels of pesticides and bacteria Salmonella.
This message, which includes Firstpost and Wall Street Journal article links, states that these snacks are unhealthy and not safe to consume.
The claim also goes on to say that 'Haldiram buys marble dust from Makrana. Earlier, the mine owners used to pay money to dispose the dust. Today, they sell to Haldiram @ approx Rs 19 per kg. This is used primarily in bhujia to make it crispy.'
NewsMeter also received the viral message on WhatsApp asking for a fact check.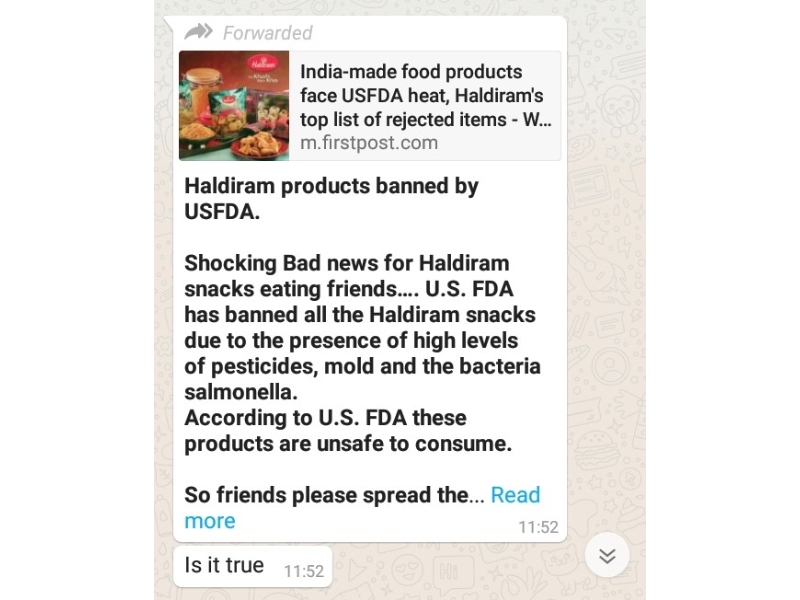 Archived claims can be found here and here.
Fact Check:
The claim that all Haldiram snacks were banned by USFDA and Haldiram's uses marble dust from Makrana to make their bhujia crispy is FALSE.
It is true that USFDA had seized a consignment and issued a warning letter in 2017, which was updated in 2018. However, we can see no latest updates about the brand on its website.
Firstpost and Wall Street journal articles quoted in the viral message are from the year 2015.
According to a report in NDTV food, published in 2017, USFDA has rejected several batches of Haldiram snacks over the years. But, this is the news from the year 2017.
Recently, Amazon, USA has started selling Haldiram's products on its online portal. According to a report by the Economic Times, published in November 2019, Haldiram's has USFDA approved selection with customized packaging for the market which has been made live and fulfilled by Amazon in the USA.
In another report published by The Hindu Business line, Food Safety and Standards Authority of India CEO Pawan Agarwal has been pushing the packaged food industry to voluntarily cut down on salt, sugar and saturated fat-levels, and several companies have already made commitments under its flagship programme "The Eat Right India Movement". This also comes at a time when FSSAI is in the process of overhauling the labeling regulations.
According to a report published in The Tribune, in May 2020, Pawan Agarwal rubbished the viral internet forwards saying the USFDA had banned Haldiram's products from sales on grounds of harmful ingredients, including marble dust, being found in them.
He said that these forwards were three years old when the USFDA had seized certain consignments of the food brand in question. He said, even so, the part that marble dust was found in these products was bogus.
Agarwal denied that the USFDA this week had issued bans on some Indian food majors. On concerns around the marble dust in Haldiram's Bhujia, Agarwal said, "This is a bogus claim. Haldiram and other Bhujia brands use a certain form of pulse locally available in Rajasthan to make their products crisp. There's no marble dust."
Therefore, more than 3-year-old messages are going viral again claiming that Haldiram's has been rejected by the USFDA. These claims are FALSE and selected Haldiram products are now being sold on Amazon in the USA.
Claim Review :
All Haldiram's food products were banned in USA
Claimed By :
social media users