HYDERABAD: A picture is viral on social media that shows the Indian Army waving the national flag on Kailash Mansarovar. Users claim that the Army climbed the mountain and made the country proud.
Below is a screenshot of one suck tweet, with the caption, "Indian Army; Mount Kailash- Vande Mahataram!! Happy birthday, Dr. @swamy39 jee".
Click here to view a similar claim.
Fact check:
This claim is false.
Newsmeter performed a reverse image search and found a similar photograph on India Today. The picture was captioned "Jawans hold the tricolor at LOC on the eve of Republic Day.
Another media organization, The Print had also carried the same picture with an article headlined "Army may recall retd personnel with medical expertise if fight against Covid-19 intensifies".
A closer look at the picture shows that the picture has been morphed. This picture was taken from the LOC but is photoshopped and made to make it look like the soldiers are waving the national flag atop Kailash Mansarovar.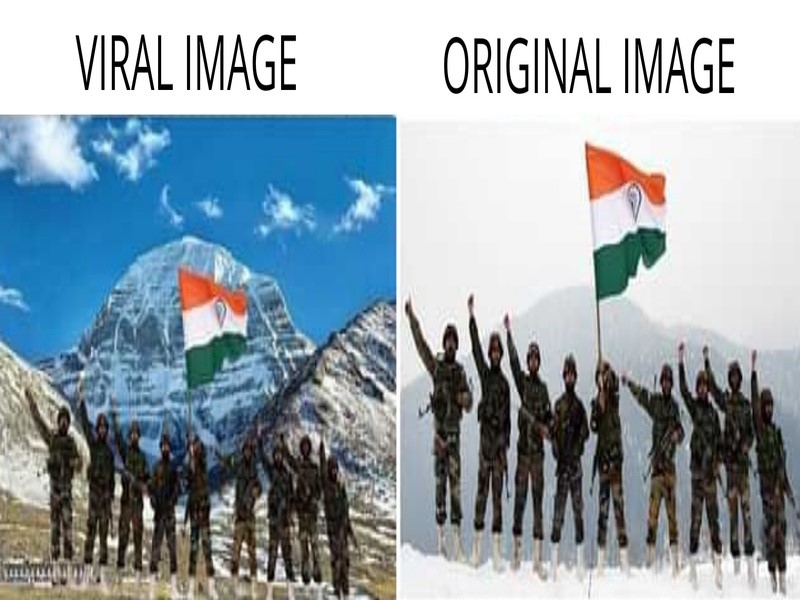 Therefore, it is clear that the claim is false.
Claim Review :
picture of army scaled Kailash Mansarovar
Claimed By :
Social Media Users