Hyderabad: An image of a strange four-legged creature with a human-like face is viral on social media with a claim that it is a dangerous animal. Some social media users claim that the creature could be an alien.
A twitter post reads," Does anyone know about this animal.In regional marwadi language, it is known as "दिप्डा"
@Discovery @DiscoveryIN @NatGeo @anandmahindra @aajtak @ABPNews @vivekagnihotri @rahulkanwal @TajinderBagga @theskindoctor13 @Atheist_Krishna @AnimalPlanet @IndiaToday @indiatvnews https://t.co/UNqP8h396P#".
A Facebook user shared the image with a question " A strange creature spotted on 2nd September. Is it alien? ". This post is now deleted.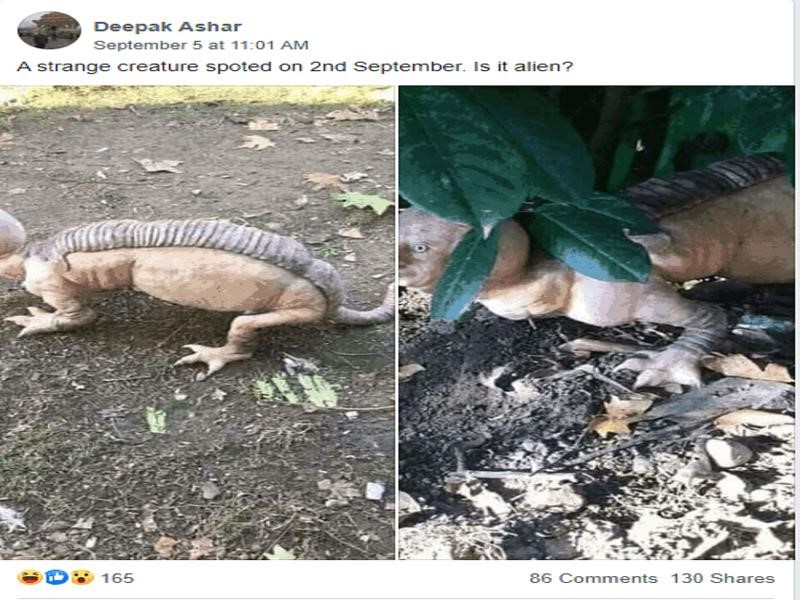 News18 Telugu also reported the same false claim and further said that it was spotted roaming around Gollapalli village of Jagtiyal district in Telangana.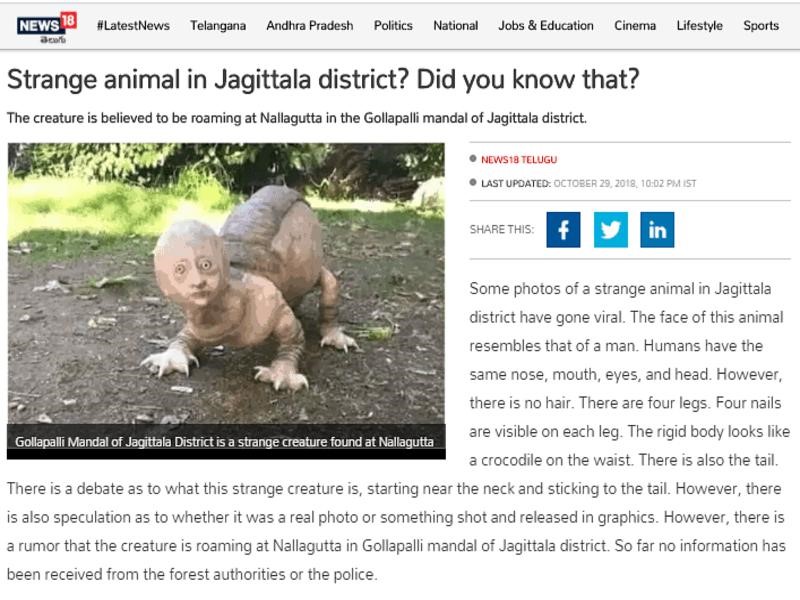 FACT CHECK:
This claim is false.
Newsmeter performed a reverse image search and found a blog titled "Unbelievable Creepy Hyper Realistic Creatures By Laira Maganuco" that published the same picture.
We then found that Laira Maganuco is a hyper-realism silicon sculptor from Milan. In a biography, she states that "After several experiments I came to the conclusion that silicone is a material capable of making my sculptures more realistic both visually and to the touch".
The animal in the viral picture is not real as it is a sculpture made of silicon. The artist usually, in all her sculptures, gives a more realistic look to the sculptures.
This sculpture is on sale at Etsy for US$ 8,088.64 and is named 'Armadillo'.
Newsmeter also found the Instagram account of Laira Maganuco and found that the same pictures were posted in July 2019.
Apart from this, we also found her YouTube channel where she displays the ' Armadillo Hybrid'. The description reads 'A single-piece silicone Armadillo hybrid'.
Therefore, the claim that the creature is an animal or an alien is false.
Claim Review :
Creature with human-like face
Claimed By :
social media users