Fact Check: Viral pictures of woman police constable being raped and killed in Punjab are FALSE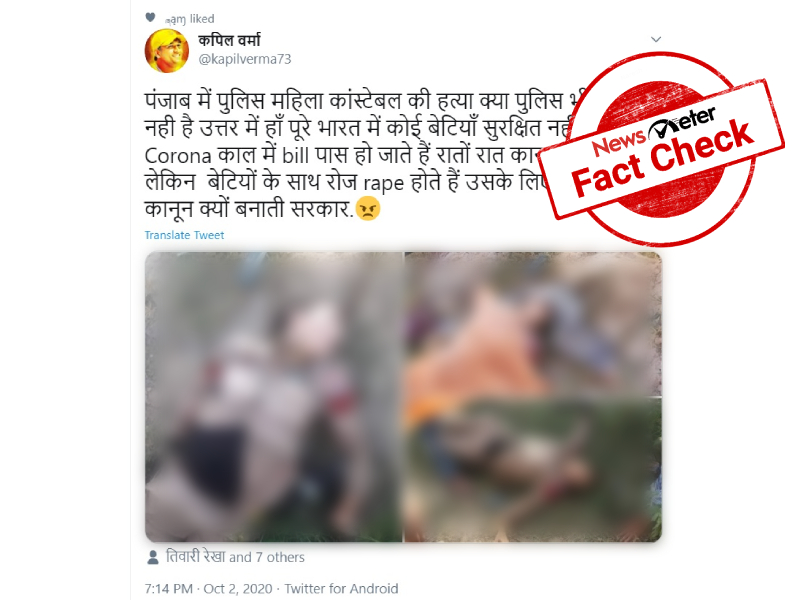 Hyderabad: Pictures of a police constable belonging to the Punjab police are going viral with a claim that she has been raped and killed.
The text on these tweets in Hindi state
'पंजाब में पुलिस महिला कांस्टेबल की हत्या क्या पुलिस भी सुरक्षित नही है उत्तर में हाँ पूरे भारत में कोई बेटियाँ सुरक्षित नहीं है. Corona काल में bill पास हो जाते हैं रातों रात कानून बन जाते हैं लेकिन बेटियों के साथ रोज rape होते हैं उसके लिए कोई कठोर कानून क्यों बनाती सरकार.'
When translated, it means "Police constable murdered in Punjab. Is the police also not safe? Answer: Yes, no daughters are safe in the whole of India. In the Corona era, bills are passed overnight, laws are made overnight, but the daughters are raped every day, why should the government make a strict law for it?"
(archived tweets here and here)
Fact check:
The claim that the lady constable was raped and killed is FALSE.
Several users commented on the messages stating that this is a false claim and added an article link published in TribuneIndia.com.
Though there were no pictures published, the report published states a woman police constable, Nomi, posted at miscellaneous store keeping (MSK) branch here died after a speeding SUV hit her scooter near Sangatpura village in the wee hours on October 1, 2020.
She was going to attend her duty near the Golden Temple in view of the visit of SAD president and former Deputy Chief Minister Sukhbir Singh Badal.
Jagran reported that DSP Ajnala Vipan Kumar said that the woman constable from village Kala Afghana was posted in the MSK branch of the Roman Police Commissionerate, Amritsar. She was going to attend her duty on Activa like every day. Near Chetanpura village, a Scorpio hit her Activa at a high speed. The woman died on the spot in the accident. DSP Vipan Kumar told that post-mortem of the body has been done. The accused are being traced.
This was also reported by PunjabKesari.com, which showed the picture of Nomi.
Hence, it is FALSE that a woman constable of the Punjab police was raped and killed. She died in a road mishap.
Claim Review :
Viral pictures of woman police constable being raped and killed in Punjab
Claimed By :
Social Media Users