Fact Check: Viral post claiming that a total of 6 massive explosions occurred within 24 hours is MISLEADING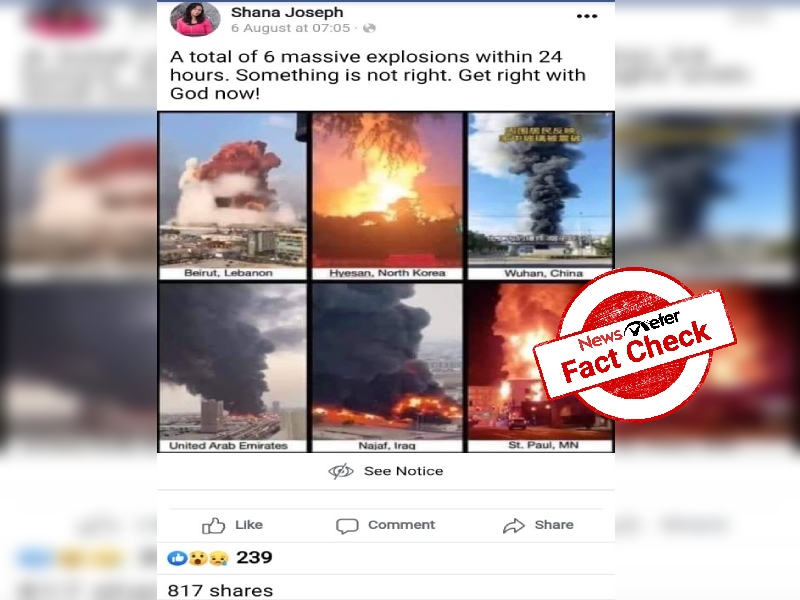 Hyderabad: A massive blast that took place on August 4, 2020, shook Beirut, the capital city of Lebanon. More than 100 people were dead and thousands wounded.
It is believed that ammonium nitrate, a highly explosive material confiscated from a ship in 2013 and weighing 2,700 tonne, which was stored at a local port, could be the cause for the blast and investigation is still going on.
A Facebook user on August 6 posted a claim on social media which is now doing rounds with over 800+ shares and garnered more than 200 reactions. The user claimed that five other explosions also occurred within 24 hours. "A total of 6 massive explosions within 24 hours. Something is not right. Get right with God now!"
The post contained blast images allegedly that occurred in Hyesan, North Korea; Wuhan, China; United Arab Emirates; Najaf, Iraq and St. Paul, Minnesota, apart from that in Beirut.
Archived claim can be found here.
Fact Check
Some parts of information are true and some parts are false. Hence, the claim is MISLEADING. Other than the incidents that took place in Beirut and China, the remaining are fire breaks, NOT explosions.
As per the Hindu, a video shows orange flames and black smoke rising from a North Korean city near the border with China, amid reports that deadly explosions occurred there earlier this week.
As per Fox News, a factory explosion in China's Hubei province killed at least 6.
According to Moneycontrol, a massive fire broke out on August 5 evening at a market in Ajman, UAE, that has been put out and brought under control.
As per SHAFAQNA- the official Iraqi news agency, there was a fire in a food and electrical warehouse in Najaf Ashraf and it said that firefighters are trying to contain it.
As per ABC News, firefighters battled a large fire in downtown St. Paul which engulfed a building that was under construction, causing part of the structure to collapse.
Other than Beirut and China explosions others are normal fire outbreaks, where the cause of the flames is yet to be known, and are not explosions. Hence, the claim is MISLEADING.
Claim Review :
a total of 6 massive explosions occurred within 24 hours in Beirut
Claimed By :
Social Media User