Hyderabad: A video of a waterfall posted by Twitter handle @anusehgal claiming it to be Bhedaghat Falls from Jabalpur, Madhya Pradesh, is circulating on the microblogging site. The video with accompanying text "Desi Niagara falls- Beraghat falls- Jabalpur in this monsoon via (WAP)" garnered around 4.8k retweets and 23.9k likes.
This video was shared virally on Facebook too with the same claim.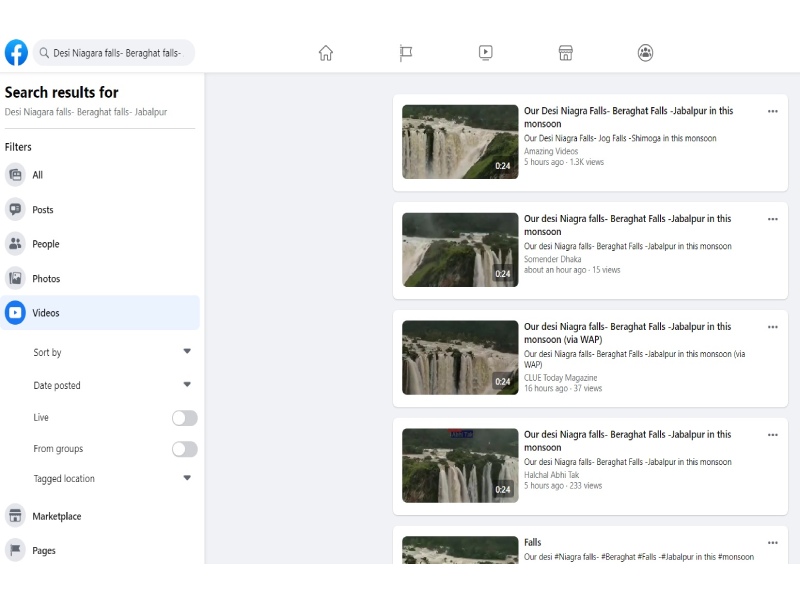 Archived links to the claims can be found here and here.
Fact Check:
The claim shared is FALSE.
Several users commented on the post shared on Twitter that the video is of Jog waterfalls in Karnataka.
NewsMeter used Invid tool to extract keyframes from the viral video and performed Google Reverse Image search. It led to several videos depicting that these waterfalls were not Bhedaghat Falls but Jog Falls in Karnataka shot in September 2019.
One such video showing similar visuals was found in our search and was published in December 2018. Description of the video says 'Jog falls is one of the most beautiful waterfalls in the world. And it is the second-highest waterfall in India. The river called Sharavati creates this beautiful Jog waterfall, located between Uttarakannada and Shivamogga districts of Karnataka state. So, Jog waterfalls has two best views one from Uttarakannada side and another from the Shimoga district.
Here is another video showing Jog Falls in full flow. According to the video, it was shot in August 2018, when water from the Linganamakki dam was released.
According to a report published in Deccan Herald in October 2018, Jog Falls in Karnataka releases 22,000 cusecs of water. The water level in the dam is close to the full capacity of 1,817 feet. We can see the viral video shared in this article.
In this article published by The Hindu, we can actually see the Dhuandhar Falls, Bhedaghat.
Therefore, the claim that the waterfalls seen in the video is NOT Bhedaghat falls from Jabalpur, but Jog Falls in Karnataka.
Claim Review :
Video claiming to be Bhedaghat Falls in Madhya Pradesh
Claimed By :
Social Media User