Hyderabad: A screenshot of a news bulletin claiming to be from Hindi news channel 'Aaj Tak' is viral on social media with a picture of Uttar Pradesh Chief Minister Yogi Adityanath stating that "Thakuron ka khoon garam hai, thakuron se galtiyan ho jati hai" (Thakurs are hot-blooded, they tend to make mistakes)". This image is viral in the backdrop of the alleged Hathras gang-rape incident that took place in September 2020.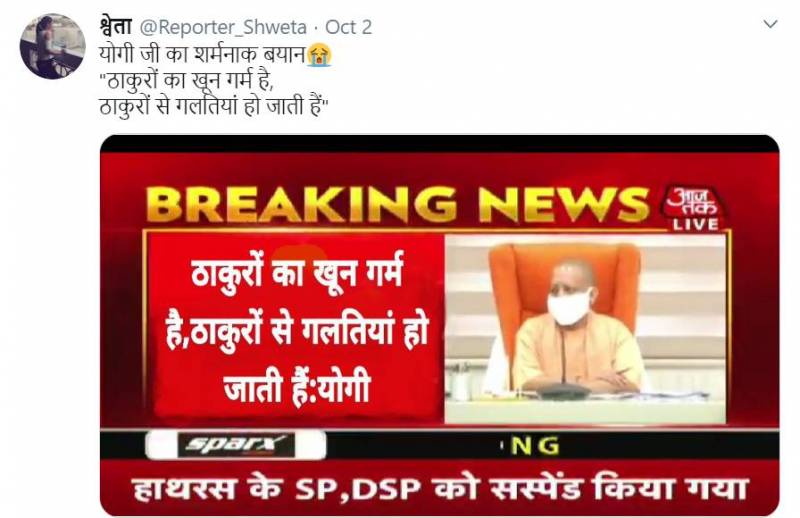 A Twitter user posted this picture and upon translation the tweet reads,"Embarrassing statement of Yogi "Thakur's blood is hot, Thakurs make mistakes ". (archived tweet)
Click here and here to view similar claims .
Fact check
This claim is false.
Newsmeter checked for reports on this comment by other news organisations and found none. This apart, no such statement was found even on Yogi Adityanath's Twitter.
Secondly, as the viral image holds the logo of Aaj Tak, we searched for reports on it's website and social media handles and found no such report. However, the original screenshot was found on its Twitter account where the CM can be seen sitting in the same position as shown in the viral picture.
The Hindi caption in the original screenshot translates to "SP and DSP of Hathras suspended'.
Apart from this, it was noted that the viral image has no space between two punctuation marks and the words before and after it. There is also a variation in the colour of the box in which the text is written which proves that the picture is morphed.
Thus, the claim is false.
Claim Review :
Yogi Adityanath did said 'Thakurs make mistakes'
Claimed By :
Twitter Users