Hyderabad: In the past few days, controversial polls are going viral on Twitter. They are passing off as polls by Republic Tv, misleading the users into sharing the polls. These polls were shared in the name of Republic polls.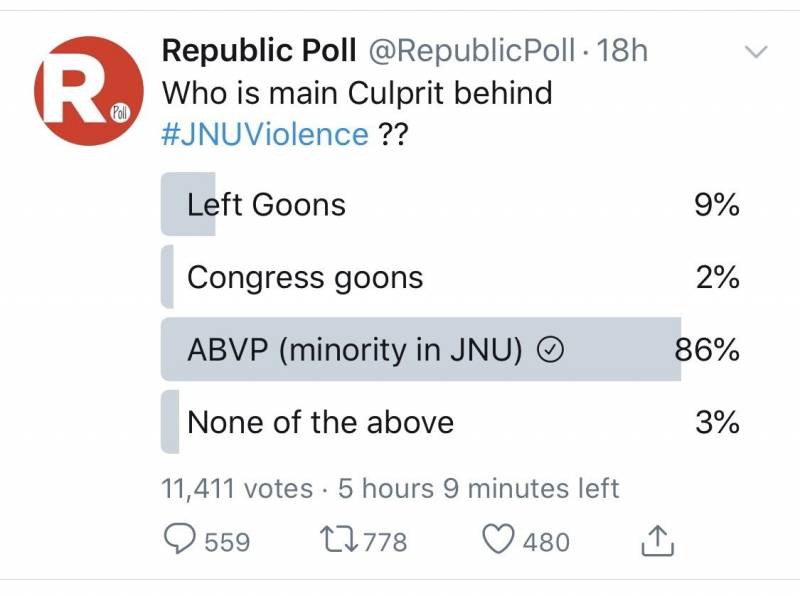 One such poll is 'Who is the Culprit behind #JNUviolence ??' with options
1. Left Goons
2. Congress Goons
3. ABVP (Minority in JNU)
4. None of the above
Many Twitter users shared this poll frantically commenting the poll with the use of words like 'Goons' and 'Minority in JNU'.
and also
@republic that was a really good poll. But I think now you can say it is a perception not the truth? What do you say about this poll?
Fact Check:
Many users mistook the polls are from official Republic TV account conducting the polls. But these misleading polls are not on the Republic TV Twitter handle, which is @Republic. The handle that posted these polls is @RepublicPoll.
Even though the logo of this account looks similar to logo of Republic TV logo, there is a small difference in them. Republic Twitter account is a verified account whereas Republic poll is an unverified account created in April 2019.
Recently, Republic poll twitter handle changed its logo and its description says 'Polls on Trending Topics. Right is always Right. देशहित सबसे आगे... वन्दे मातरम्'.
Republic poll offers polls on very controversial topics and options. It has 2,746 followers.
Some of the polls by Republic polls are
These polls were NOT posted by Republic TV twitter account. They were posted by an impostor account to create controversies with its polls, misusing the name of Republic TV account.