Fact Check: FCI says article on news websites regarding food grains going waste is misleading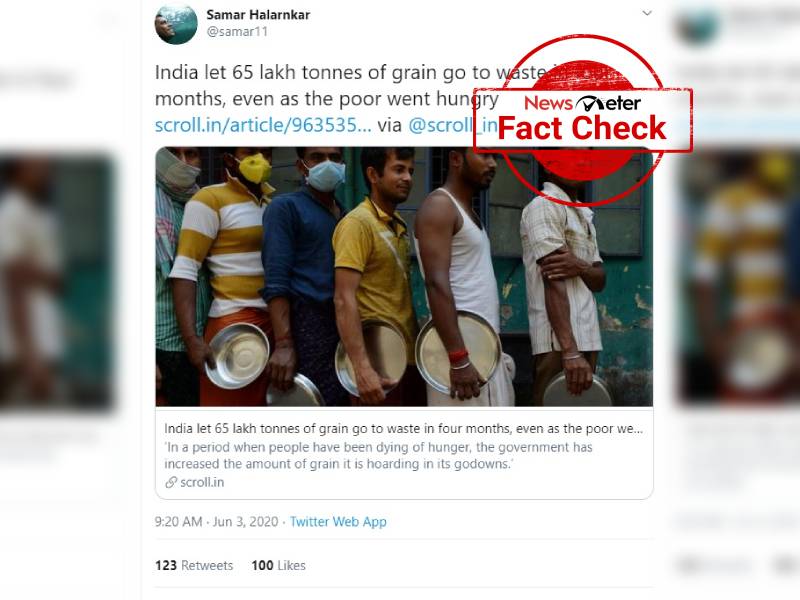 Hyderabad: An Indian digital news venture published an article that "India let 65 lakh tonne of grain go waste in four months, even as the poor went hungry" on June 3, 2020. In that article, the publication claimed that "Instead of using its grain stocks to feed the poor and hungry during the Coronavirus lockdown, the Indian government is letting this food rot in its godowns. The government does not have proper storage facilities for stocking such a large amount of excess grain. Since much of this grain has been stored in sub-optimal conditions for long, a significant part of it has been damaged.
In just four months, between January 1 and May 1, the stock of rice and wheat that was not "readily issuable", which included partially spoilt as well as damaged grain, increased from 7.2 lakh tonne to 71.8 lakh tonne. This is more than the amount of grain that has been distributed through PM Garib Kalyan Ann Yojana in April and May to deal with the crisis of livelihoods and food insecurity created by the Covid- 19 lockdown."
https://scroll.in/article/963535/india-let-65-lkh-tonnes-of-grain-go-to-waste-in-four-months-even-as-the-poor-went-hungry
archived link: https://web.archive.org/web/20200603041955/https://scroll.in/article/963535/india-let-65-lakh-tonnes-of-grain-go-to-waste-in-four-months-even-as-the-poor-went-hungry
Several publications followed suit by repeating this article, the link was shared on social media as well.
https://www.scoopwhoop.com/news/india-wasted-65-lakh-tonnes-foodgrain-in-4-months/
Fact Check:
This above claim is MISLEADING.
Food Corporation of India, a Govt of India's agency which ensures food security through Public Distribution System, Minimum Support Prices to farmers and maintenance of buffer stocks, tweeted that the article published on Foodgrains gone waste was misleading, tagging @irvpaswan @fooddeptgoi @cabsect_india, @PMOIndia, along with the letter sent to scroll.in by the corporation.
This was retweeted by the Union Minister of Consumer Affairs, Food & Public Distribution, Government of India, Ram Vilas Paswan. "The long diatribe by @scroll.in saying 'India let 65 lakh tonne of grains go waste' is simply a result of ignorance of facts. The authors have deliberately considered it food grains in transit as food grains which have been wasted. Here are the facts!"
In a letter, the FCI stated that the portal was giving completely wrong information to the public. According to the FCI, there has been a gross misinterpretation by publishing an imaginary figure of 71.8 lakh metric tonne as wasted stocks, when the actual quantity of food grains stock that was damaged in 2019-20 was just 1,930 metric tonnes, that too largely due to natural calamities like floods.
FCI explained that in May, Rabi season wheat procurement happens on a large scale. The wheat stock thus procured is shifted to government storage houses over time. There is a certain time lag as large-scale logistical operations are involved. Thus, at any given point of time, there will be a certain amount of procured wheat that has not yet been shifted to a storage house.
Consequently, there are stocks in transit as it takes time to shift them from the surplus to consuming states. Due to the lockdown necessitated by the pandemic, numerous welfare schemes were launched due to which the demand for grains increased substantially. As a consequence, there was a larger amount of stock in transit.
PIB also fact checked the article and stated that the article published was baseless and a misinterpretation of facts. The stock in transit by the FCI was interpreted as food being wasted.
Therefore, the claim that 65 lakh tonne of food grains have been wasted during 4 months of lockdown is MISLEADING.
Claim Review :
FCI says article on news websites regarding food grains going waste
Claimed By :
Social Media Users