Hyderabad: A fifth positive case of Coronavirus has been reported in Telangana. The patient is reportedly an Indonesian. The fifth case was part of the 13 member group who are on a religious tour in India. The man reportely came to Telangana on March 9th via train. His local travel history has put the state government and south-central railway (SCR) authorities in the spot as the man could have exposed himself to hundreds during travel. The matter has been reported to the SCR authorities.
It is to note that, the first case had a travel history to Dubai, second and third to Italy and Netherlands respectively. While the fourth case had traveled to Scotland, all Indians. However, the fifth positive case is not an Indian national, but Indonesian.
Meanwhile, on 16 March the fourth case of Coronavirus was reported in Telangana. The patient has travel history from Scotland. The 38-year-old man self-reported after landing at Hyderabad airport. His family is still in Scotland.
According to the COVID-19 state bulletin released by the state health department on Monday, Telangana has a total of 1,262 suspected cases of the Novel Coronavirus. Among this, 395 symptomatic cases have been put under hospital isolation, while results are awaited for 22 patients. Also, 868 people who have shown no symptoms of COVID-19 have been kept under home quarantine.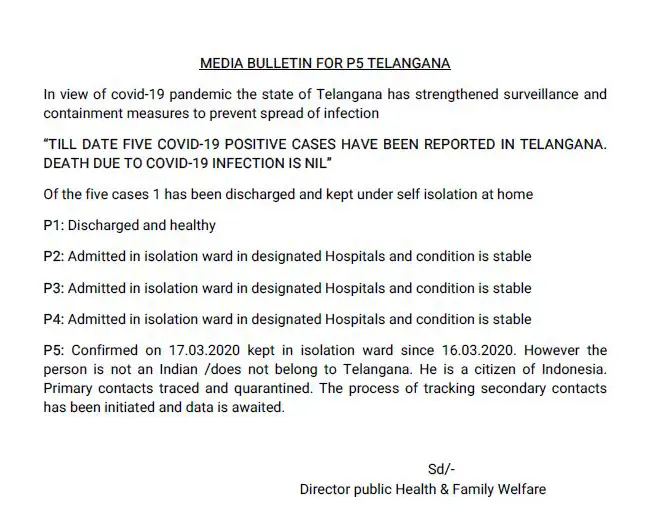 Regarding the fourth positive case, Dr P. Sravan Kumar, superintendent of Gandhi Hospital, told NewsMeter, "The man self-reported at Gandhi Hospital on 15 March. Both his test results came back positive. He has not come in contact with anyone at Hyderabad, therefore no contact tracing is conducted. He directly reported upon his arrival at the Rajiv Gandhi airport."
The other two Coronavirus patients from Telangana are recovering at Gandhi Hospital and their condition is now stable. A 42-year-old man, who travelled from the Netherlands, and a student from Italy had tested positive and were kept in the isolation ward of Gandhi Hospital, the nodal centre for Coronavirus in the state. Meanwhile, Telangana's first COVID-19 patient was discharged on 13 March.